Hello friends...happy Friday.
Just dropping in for a quick post to say a few things..
First up, we have a guest post up for you guys today,
over at the Mycolor blog
. Camila Pavone from
Effortless Style
is giving us a cute ikat DIY to create. This is a fun and easy project that you could tackle over the weekend, if you are feeling crafty. Thanks so much, Camila, for the post!
Second, wanna make me happy? Vote for me in
Apartment Therapy's "Homies"
awards. I've moved on up from having 2 votes, to having 35 (awesome), so I'm a little higher on the list now. It would be amazing to win.
...and third, today is my birthday...and it's kind of a big deal... because it's my 30th! I feel like I've already had a birthday, because yesterday my best friend took me to get our nails done, and then we went to dinner, but, alas, there is still lots more celebrating to be done today and tomorrow. I'm a lucky girl. I'm so excited to spend time with all the people I love. Friends and family are where it's at, and I have some good ones.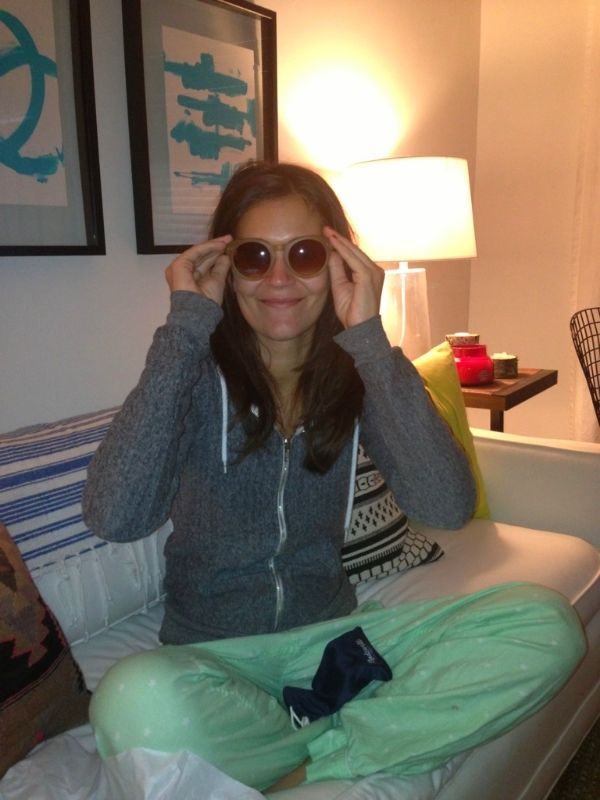 (here's a photo of me bright n early this morning, after Jordan gave me some bday sunglasses. looking quite spiffy in my pj's and bedhead.)
have a great weekend, my friends!