Hi! I hope you all had a nice weekend. I pretty much did nothing, and it was awesome.
We went to dinner party at a friend's house Friday night, but otherwise, it was mostly chilling around the house. We find it's easier not to leave with Max around... neither of us can stand to put him in his crate when we leave, haha. It's so sad! He's doing really well, though, and him and Mika are slowly becoming friends. Well, acquaintances might be more appropriate, but in time, I think it'll be friends. I am also currently addicted to Breaking Bad (I'm into season 5, episode 4.), so I watched way too many episodes on Netflix. I just had to see what was going to happen with Gus, and now I know. Unfortunately, I also now just HAVE to see how the whole show is going to pan out, so the addiction continues until I'm finished with season 5, then I will cry in my pillow that it's over. Life is hard.
Anyway, I thought I would show you guys some little paintings that I was working on last week. I had to do a sample for a designer's client, and did some baby paintings for me. Well, I intended to sell them on etsy or something, but I hung them at my house for now. We'll see if I decide to sell them.
Here are some photos from when I was working on them in our kitchen... see? I didn't even paint at the studio... just wanted to be home.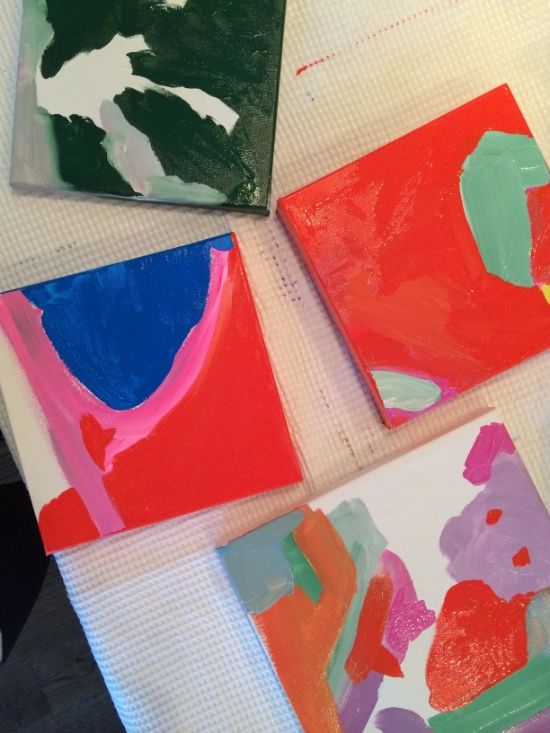 It's funny how these abstract paintings I do can go... I will be really into one... and really like where it's headed... then in five seconds and ten brushstrokes... hate it. I guess because I don't have much of a plan, so I just go with it, and then all the sudden everything's messed up! That's why sometimes when I get to a "good" place, I like to stop, take a picture, go home, take a break, then come back with a fresh head about my next step. Funny how they work. drawings and paintings of literal tangible items are so much easier!
Jordan stepped in front of me while I was taking this one.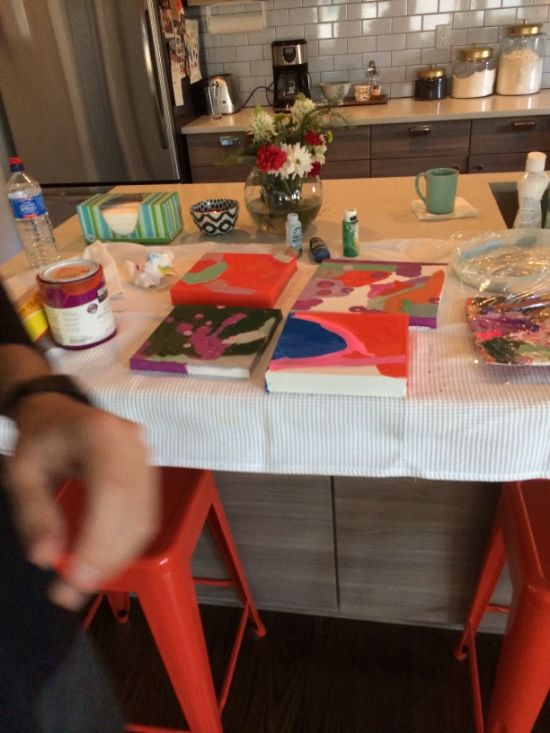 I literally took this picture so I could stare at my paintings while I was at the gym, and figure out the next move. unfortunately I screwed that hunter green one up, and it's still not fixed!
eventually I finished a few, and they're hanging in my house now. The one on the right here is the one with the hunter green that still isn't finished. I added a lot of purple to it. DOH
this one is my favorite - it's in our bedroom now.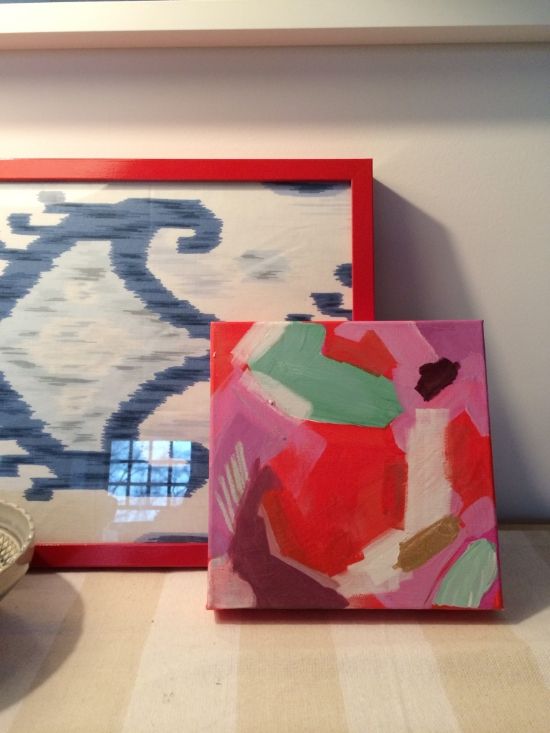 and these other two are hanging together on a tiny little sliver wall. We have all these funky angles in our bedroom, that I almost can't even figure out what to do with! So, I hung some baby paintings. These guys are around 8 by 8" and 6" by 6".
Anyway, they make me happy. I have a real thing for color, especially paired with lots of white, so it's a good look for my eyeballs. :) I did a bunch of changes this weekend, including taking out our old jute rug and replacing it with a much nicer one! Super excited. It's larger, too.
please tell me I'm not the only one that has this disgusting problem with jute rugs:
we are clean people, and this is gross. I vacuum under the rug as much as I can, but it's impossible under the bed. I guess jute rugs just harbor dust and release their own over time (it's always in the info section when you read about them online). Its really gross, though, and I'm so glad that the new rug doesn't do this! I will be blogging about it soon, with pictures. You can see it rolled up on the bottom left in this picture.
I also replaced some of the sconces that I don't like in our bedroom with new ones this weekend. I'm waiting for the handy man to come over and remove the ones near our bed, so I can patch up their spot and make them disappear. Slow progress!!
Well, I'm off to finish up some Christmas shopping! I hope you all have a GREAT holiday, and I'll see you back here soon.