Hi guys!
Long time no post... sorry for that. Jordan and I decided to go to London, and I didn't have posts lined up for my time away. But I am back with photos and to let you know that there are a couple of new posts over at the
Mycolor blog
. Please go over there and let me know what you think!
Anyway, I thought I'd share a few photos from our trip. It was sort of a last-minute trip (we did decide to go a couple of months ago, but it was a little bit of a short trip due to work and other commitments!) I was there from Sunday-Thursday of this week. It was amazing, and I'm so glad that we went! I had been to London once in 2004, but it was summer then, so this was a completely different feel. Though it was very chilly (even for them, this time of year. Temperatures were dipping into the 20's during the day!), it felt very "London" to be bundled up and sipping tea, taking in the sights. We basically did all the "tourists" spots, because this was Jordan's first trip, and since I'd only been one other time, I didn't mind seeing everything again. We did get to go to the National Gallery this time, though, which I didn't do last time, and saw some very famous paintings from the likes of a one Mr. Vincent van Gogh, Rembrandt, Titian, etc, etc. Amazing.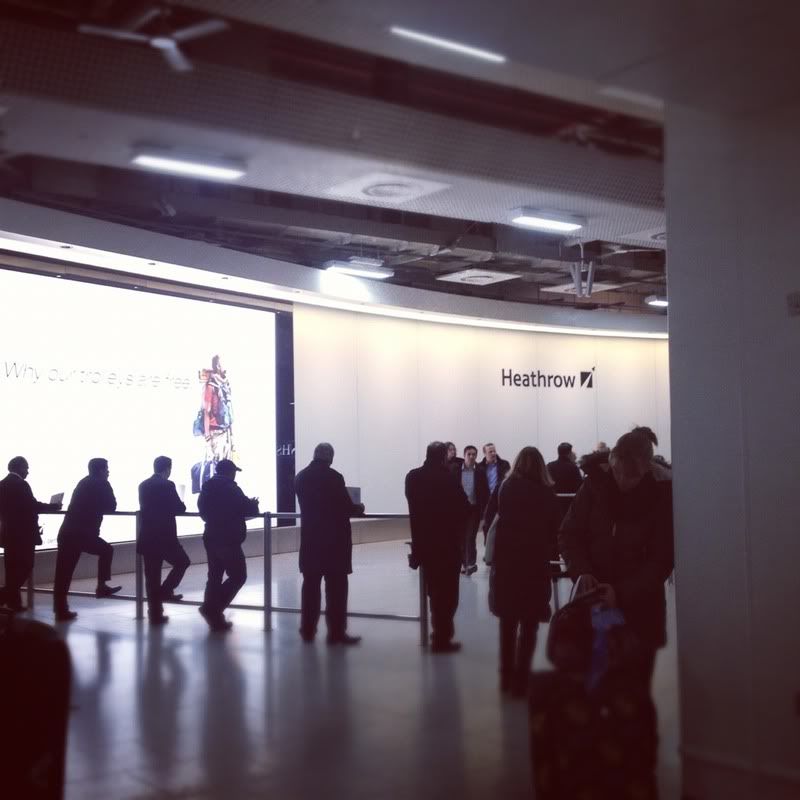 Here is a photo I took on our arrival at Heathrow. We travelled through the night, and landed in London at 7am. it was tiring!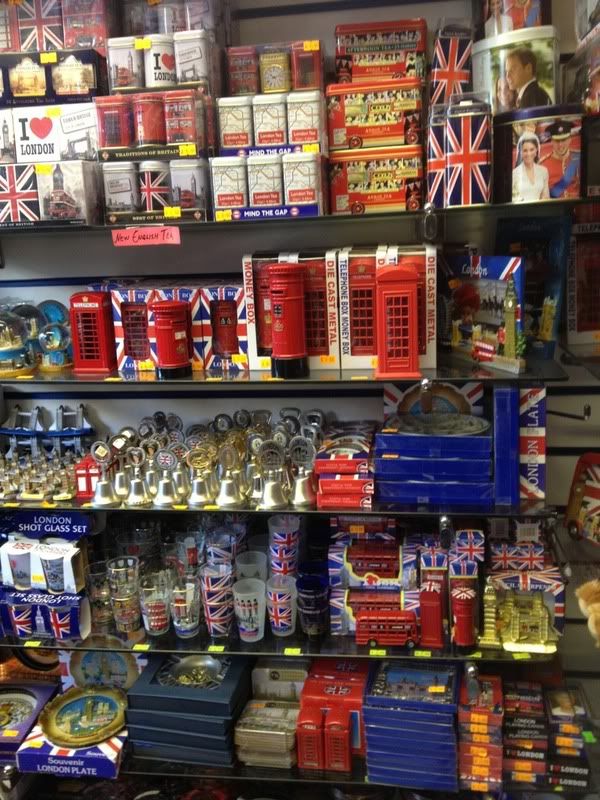 just a few souvenirs.
The London Eye! The London Eye wasn't a permanent attraction when I was there in 2004 (it was erected in 2000). They have since decided to keep it, though, since it makes about 10,000 BP per rotation (every thirty minutes). It costs about 25 pounds to ride it, but we didn't ride it this trip. You can see 40 miles out on the top of it!
here is Jordan and I , on a river cruise we took, on the Thames. The Tower Bridge is pictured behind us: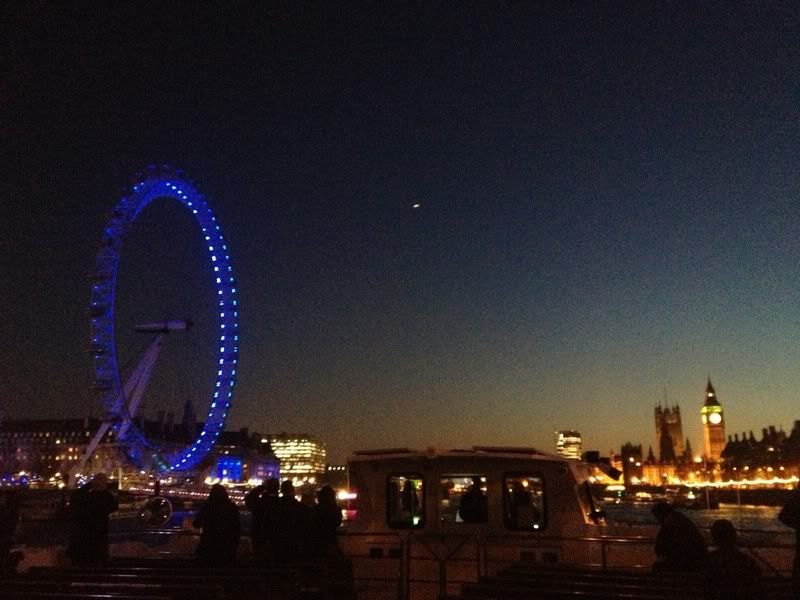 another picture from the river cruise. London Eye pictured on the left, and Big Ben on the right!
here is the tastiest meal we had on the trip:
it was a fish sandwich.
Had here:
!!!!
we stopped in for a pint at this little pub, and this was our view - a spectacular view of Big Ben. Couldn't get any better! It was so cozy, too, with Christmas garland and lights inside a traditional British pub. so great.
and lastly, we saw "We Will Rock You" which is a musical based off of the music of Queen.
(I am at the bottom right of this picture, all bundled up)
It was good, but insanely cheesy. Have any of you guys seen it? Jordan and I are both big Queen fans, and I have been wanting to see this for forever, so we went, but gah - it was over the top cheese-fest. We still enjoyed it though! And, it was cool to walk around the London Theatre District. We were there the night before, too, walking around SoHo and found out later that David Beckham (and family) were only a few streets away for the opening night of some musical based off the music of Spice Girls (talk about cheesy). Jordan's a huge soccer fan, so we were excited that we were so close, yet didn't see ol' Becks. Oh well!
And speaking of soccer, we went to a game at Fulham stadium the first night, to see Fulham vs. Newcastle. Fulham won, and I have to say, that I enjoyed being in the crowd (usually I'm not a sporting-events kind of girl), and hearing everyone sing the songs and getting so excited for their team. Fun stuff!
All in all, it was an amazing trip, and I'm so glad that we got to go. now, I must prepare for Christmas and my BABY BROTHERS wedding! AH!