Sometimes when I'm working in the 'burbs, I get stuck with time to kill, due to bad traffic, etc. I like to hit up different shops, but sometimes I also go to places like TJMaxx or Marshalls that aren't in the city. They often have more of a selection than the ones in the city, and sometimes the "good" stuff isn't as picked over.
Case in point, I found these awesome candle/candleholders the other day for only $7.99 each.
See the zig-zag chevron/herringbone esque patterned container at bottom left?
It's navy/white. The candle inside is white, and has a faint scent, but I havent even lit it yet... I just loved the pattern on the outside of the container. And, they are heavy and the pattern isn't just printed on the container, but it's part of the clay the piece was made with, so there is a tactile element to it, too.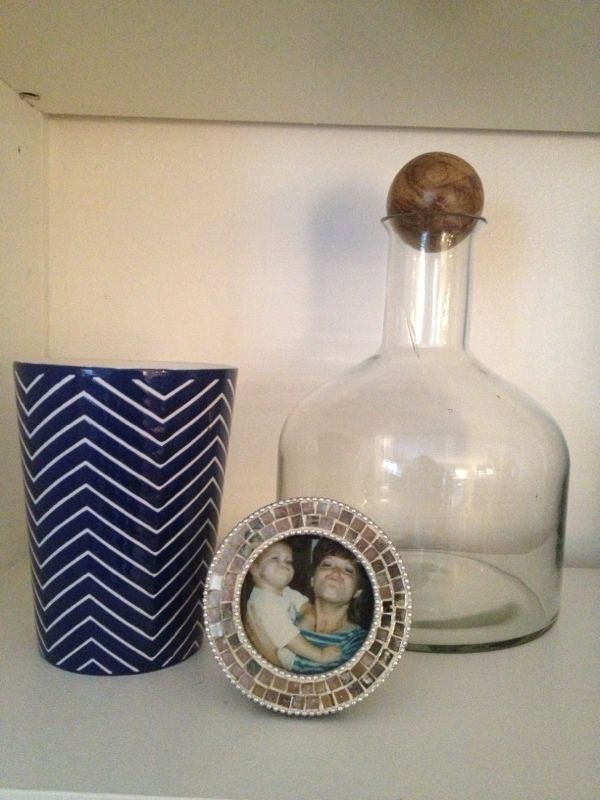 I got that cool glass vase with the wood stopper at World Market... I love it, too. (The photo is me as a baby with my mom, haha. That frame I have had at LEAST since middle school. Disco ball frame dies hard.)
I also got this cute trellis printed one (in chocolate and white):
See how the pattern is raised?
I love them! At $7.99 each, I almost bought all of them that they had (there were only 4, and the other two were really great, too), but I tried to restrain myself. How was your weekend?!