As you know, our place is really teensy-tiny. It's under 900 square feet, so we really have to pick and choose what is important for us to live with. It's a challenge, but for the most part (other than clothes-closet issues), I don't mind. It forces you to choose what matters most (Do we need a food processor AND a blender? No. Do we need 7000 pieces of Tupperware, or about 15 varied-in-size containers? The latter.), and not buy so much junk. In our kitchen, I feel like I have just about perfected the art of placing everything in it's perfect little home... I took some pictures yesterday so you guys could see what we are working with here.
This is the cabinet area - there is a small two door cabinet above our refrigerator, but other than that, this is all of the cabinet space we have:
yep, ONE drawer. Guess what's in it? Silverware. Duh. Hah.
In the main cabinets, we keep things that we use mostly on a daily basis - glasses, coffee cups, and plates. Over the sink is a sort of "pantry" area with snacks and other foods, and over the microwave is some items that are used more rarely like candy dishes and vases. To the left of that, is the spice cabinet (the little skinny one) and to the bottom right of the dishwasher is tupperware and plastic containers. Under the sink is... well... under the sink stuff(dish detergent, garbage bags, cleaning items).
One of my favorite things I did for storage in the kitchen area is buy baskets for over the cabinets:
See the gray baskets up there?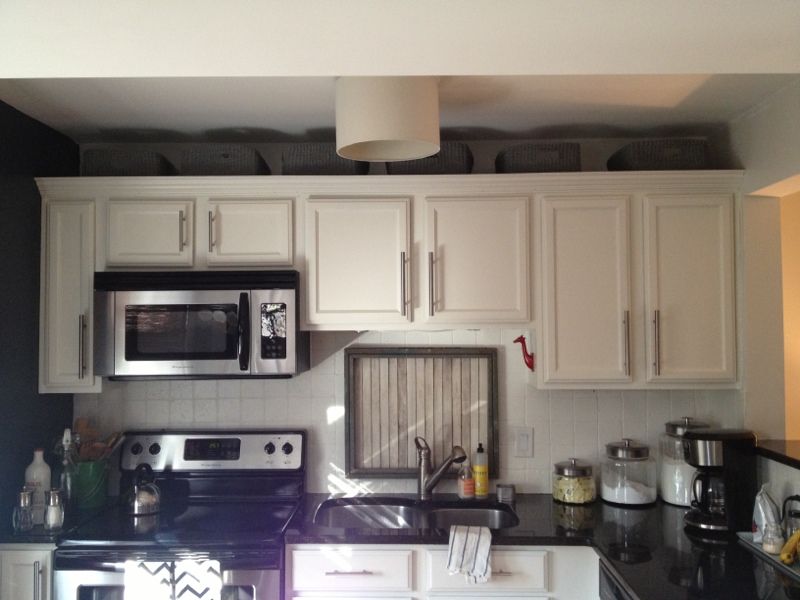 They are flimsy ones from World Market. I like them because they fit (obviously) over the cabinets, but also since they are sort of smushy, they are easy to get in and out. I keep things that I don't use very often up there, like party supplies, vintage dishes that I've collected, Christmas dishes, etc. It's a great place to hide things that I love, but don't really have much room for!
My other great storage solution was buying this big industrial shelf from Target, and displaying regularly used items on it (and pretty ones, for the most part):
We use most of these items on a daily basis, so they're easy to get to. I bought big baskets at Target for the bottom two shelves, that work almost like drawers (since we are MAJORLY lacking in that department!). We keep some food, saran wrap, ziplocs, dishes, measuring cups, etc, etc, etc, in those things. I like how they hide things!). Thankfully, the shelves are movable, so I could position them to hide the clutter.
On the shelves, I have some more storage items. I bought these glass cannisters at a thrift store, and painted the sides of them with chalkboard paint, and keep things like clothes pins, cat treats, and candy in them.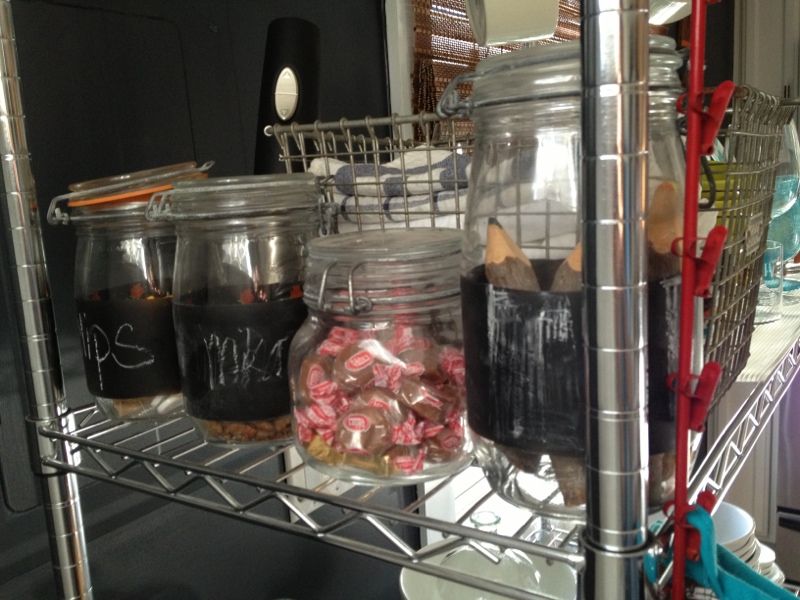 I bought this vintage bin on a trip to DC at an old antique store for about $8. I keep dishrags in it. I like to buy mostly white dishrags, and bleach them, so that they stay pretty crisp. When they get dingy, they quickly get the boot (since they're kind of on display here!).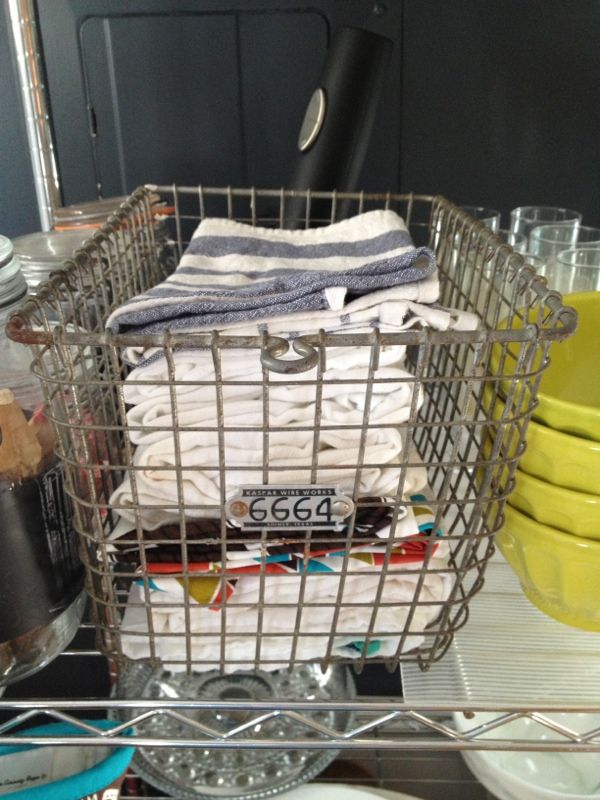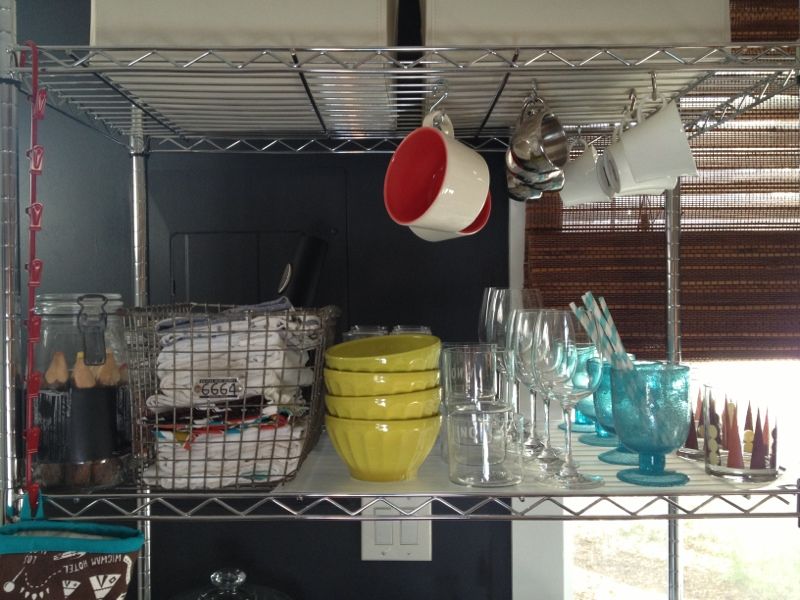 I keep prettier glasses front and center. I love my new citron bowls from Anthropologie.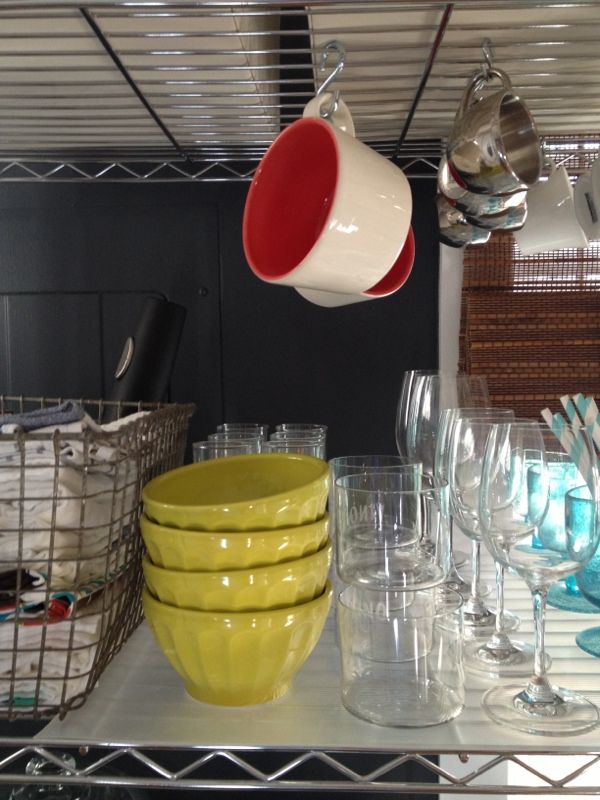 I also think my espresso cups from Crate and Barrel are super cute!
The little table to the left of the shelf is Jordan's dinner table. Haha. He likes to eat in front of the TV, so he slides this table back and forth.
And for another little spot of red in there, I have my red giraffe dishtowel holder... He makes me happy:
If I was a big cook (I am SO not), this kitchen might be a little too tiny for me, but for us, it works just fine. I hope showing you guys a little bit about how I make my small kitchen work was helpful!