I finally finished the project with great results, but not without a few (very annoying!) hiccups along the way.
Here are some stats for my project:
Five thousand pennies were used for this dining table (which is about 3.5' x 7' long), which equals about $2.04 per square foot in pennies. This is valuable info that I could not find anywhere online! Sounds silly, but is very helpful when you are trying to get a bunch of pennies at Wells Fargo, and have no idea how many you need. I got $25.00 at first, but had to go back for a second round.
I also used this resin, which was the only option at Lowe's:
It's Famowood's clear glaze coat.
It comes in 3 different sizes, and I got the largest, which is about $70 per gallon. Not cheap.
So, onto the table! My clients had this table built specifically for their space, so the top was raw wood. I first painted it a dark brown, and let it dry.
After that, I glued my pennies. You want to find a really good pattern that makes sense for your square footage, because let me tell you (due to painful past experience) pennies are impossible to cut or saw once placed. I tried.
I wanted my pennies to go all the way to the edge, but I learned the hard way that I would not be able to saw them or cut them, so I created a pattern and a placement that looked nice on the table top. After that, I glued my pennies in place with super glue. If you attempt something like this, I suggest finding a friend to help. I would say overall, it took about 6 hours or so to place all these pennies. Sounds kind of ridiculous, and I consider myself pretty proficient in any kind of crafty project (and a lot of "handy" projects), but it just takes time to place, then glue, every little penny! The good thing is that it's mindless... and would probably even be something that kids would enjoy, if you have some of those hangin' around. :)
After I glued my pennies, it looked like this: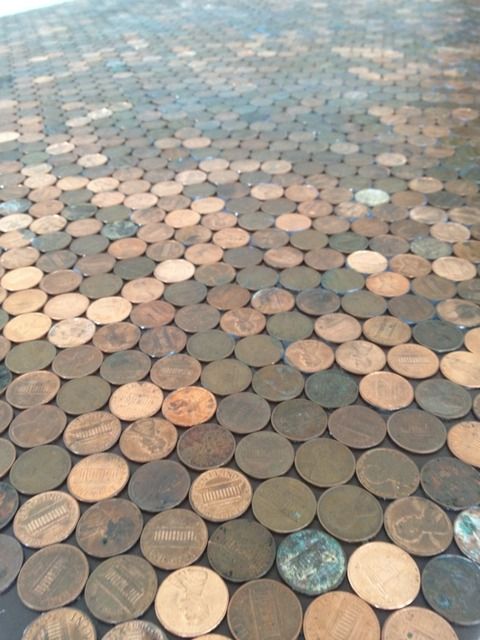 pretty cool in and of itself, I'd say.
I let this dry overnight, and the next day I was ready to pour the resin. I was pretty nervous about this part, because it was my first resin pour. Like I said, though, I am pretty good at figuring out most tools/products, so I thought that my careful attention to the directions would be enough to get me through this project easily.
Not necessarily so. You see, resin is really testy stuff - there are lots of conditions that the product has to be under for it to work properly and several very strict rules you MUST follow:
1) temperature needs to be perfect. The warmer the temp is, the faster your resin will dry. Suggested air temp in the room that you are working in should be between 70 and 80 degrees F. If it's below 70 degrees, it's going to dry slower.
2) resin/hardener need to also be brought to room temp if they aren't already
3) you MUST measure your two liquids very exactly (the hardener and the resin)
My first pour went fine, it dried properly as aspected, but there were some bubbles in the surface that were no bueno, so I called the company that makes the product and asked them what I should do. They said get a very high-grit sandpaper (I got 400) and sand down each individual bubble, make it all smooth on top, then re-pour. They sent me a complementary new package in the mail for my trouble.
This is where I get the feeling that their product is very hard to use, and they are constantly sending out free new resin packages, which is probably why the stuff is so $$$ to begin with. Hah.
So I re-did it, and it was all smooth, but this time, the product didn't dry properly, and I had some areas that were completely dry, and others that were feeling more like jelly or honey.
It's supposed to dry after 72 hours, and it had been 3 days, so I knew it was a problem.
I called the company again (me and Chan, who runs the service desk and is a super nice guy with all the answers got to be friends), and was told that I would have to re-pour. This time, the product was not measured evenly at the warehouse, so the two elements (hardener and resin) were not displaced evenly, and therefore the table wasn't drying properly. I'm pretty sure that it eventually would dry, but my clients were itching to use their table, and I was wanting to get it DONE, so I repoured AGAIN. Chan sent me another free product.
ANYWAY. All this to say, I ended up pouring a total of 4 times. The third time also gave me an un-even dry. Finally on pour 4, I got a perfect pour, and a nice, smooth, beautiful finish. Not without a lot of stress (and admittedly heartache. The resin was defeating my soul.). Chan gave great directions, but pretty much every time he told me I'd have to re-pour which was distressing. Haha. At least he sends free resins.
Now I feel like a resin expert, so if you have questions, ask away.
This is how I ended up getting the perfect pour:
You need to have 2 2-quart sized (with MEASURING LINES ON THE SIDE) containers, plus 2 other gallon-sized containers. You pour your two separate liquids (The resin and the hardener) into the measuring cups and make sure you have the EXACT amount in each one. this is VERY important. Next, you pour A into B (I can't remember which was the hardener and which was the resin, but its in the instructions) and stir for 5 minutes. The instructions say 2 minutes, but Chan told me 5 is better. Then, you pour that whole mixture into another gallon sized container and stir that one for 5 minutes too. Then you are ready. This mixture (due to the chemical reaction) will get very hot, but that means its working nicely. Try not to get scared and call the help desk if it starts smoking and melting your stirring tool you left in there. Yes that happened to me. GAH!
Then pour away. You have 20 minutes to make your pour look how you want it to look. I used a little squeegee, which worked pretty well.
Wait patiently for 72 hours and pray, cross your fingers and hope to Jesus that your resin dries properly. :)
After it was all dry (I created a frame/lip for my table to hold the resin in by using thick painter's tape all the way around the edges of the table to keep it from running. Worked like a charm. I used two layers of tape and pressed the edges of the table down hard.), and I pulled the tape, it was a little sharp on the edges, so I sanded it down with a rough grit (probably 120) hand-held sanding block.
Anyway, enough words... I hope I conveyed my points that I learned well enough for you guys. I certainly did a lot of resin research online during this whole process, but hopefully this will help more people like me out there that are having issues in the future.
Feel free to ask me questions, people, because I know how frustrating it can be!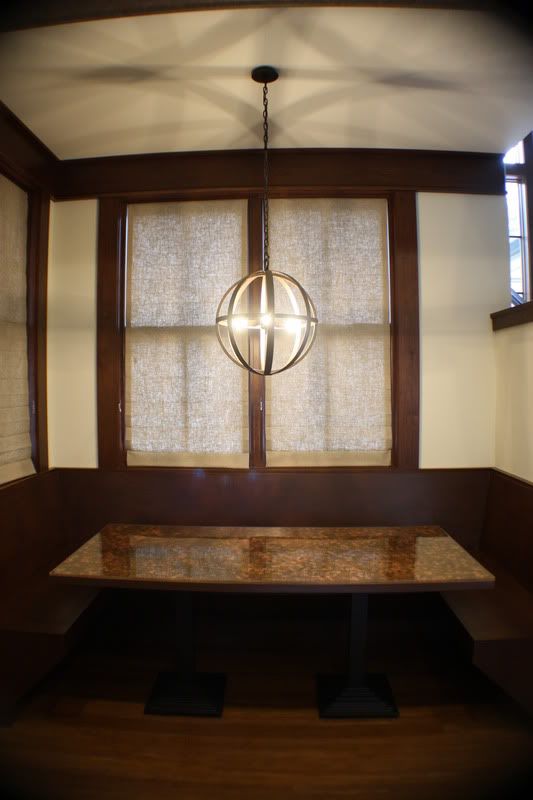 Looks pretty cool in the space, no?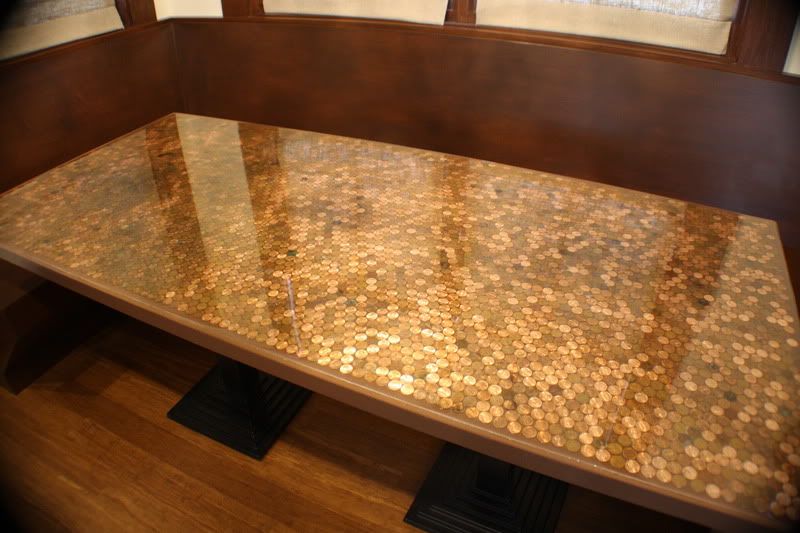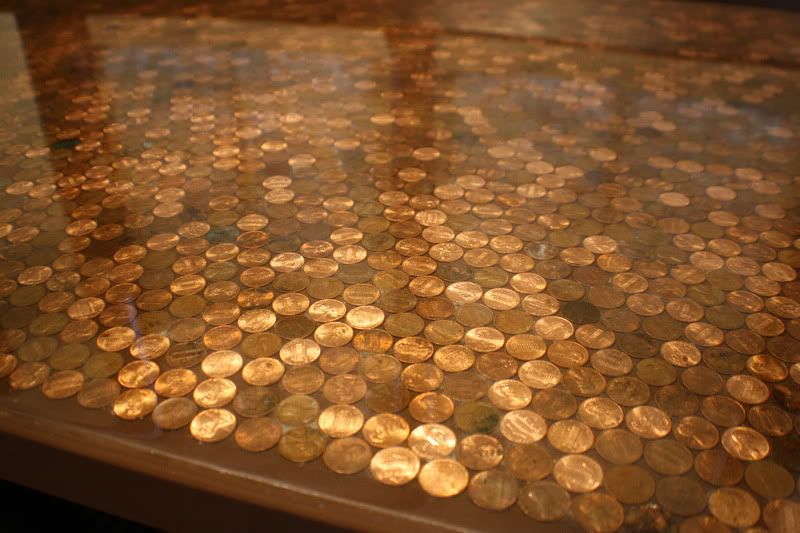 The resin layer was almost 1/2" thick after 4 pours. Admittedly, it was a lot prettier with the 4 pours versus one.
Here is a close-up photo of the edges: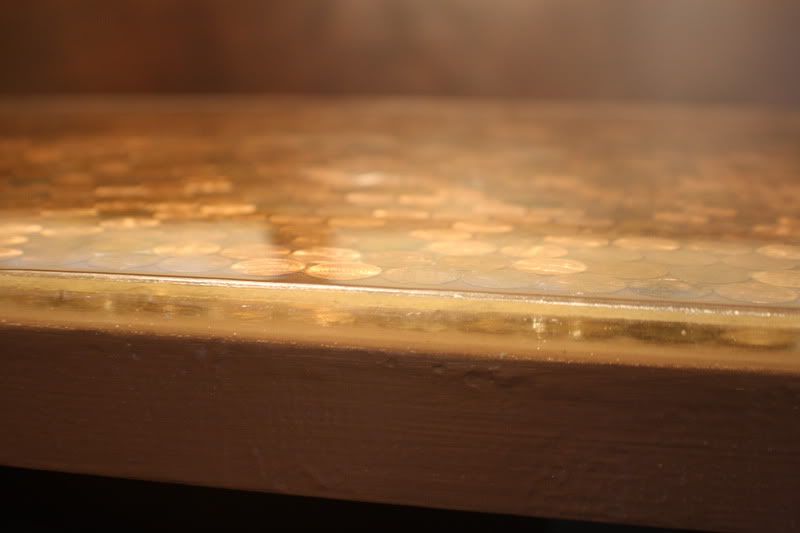 So smooooooooooth like glass: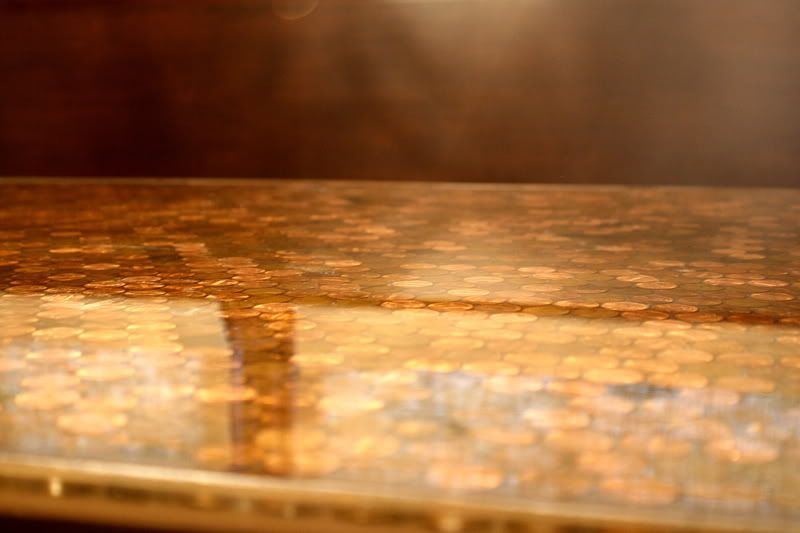 Oh! And I forgot to point out how to get rid of bubbles after you do your pour:
you manually blow them out with your mouth. yep. Tie that hair back, too (learned this the hard way as well - resin likes to stick to hair, clothes, skin, cars, tools...). Sounds kind of obvious but this is the easiest way to get rid of them! You have 20 minutes of working time after you pour, so this is when you will do this.