I shared this project via the Mycolor blog, but I really also wanted to share it with you guys here (I like to chronicle all my projects on this blog, as well as share them with readers). Hope you don't mind!
Anyway, my client had found a photo in House Beautiful (we've all probably seen it at this point- I know it was a hit when I saw for the first time!) of a beautiful bookshelf with the back wall painted in a high-contrast navy and white chevron. She wanted to recreate the look with dark chocolate brown and white.
Here is the "before" shot (well, not a technical before, we had already taken down the accessories and the shelves):
Then I began the painting! I could tell I would love it. I bought the stencil from Royal Design Studio, which was a nice change from making it myself.
I was able to move the stencil around for four different placements within each shelf, but the sides and tops and bottoms were all a challenge. I had to tape them off myself.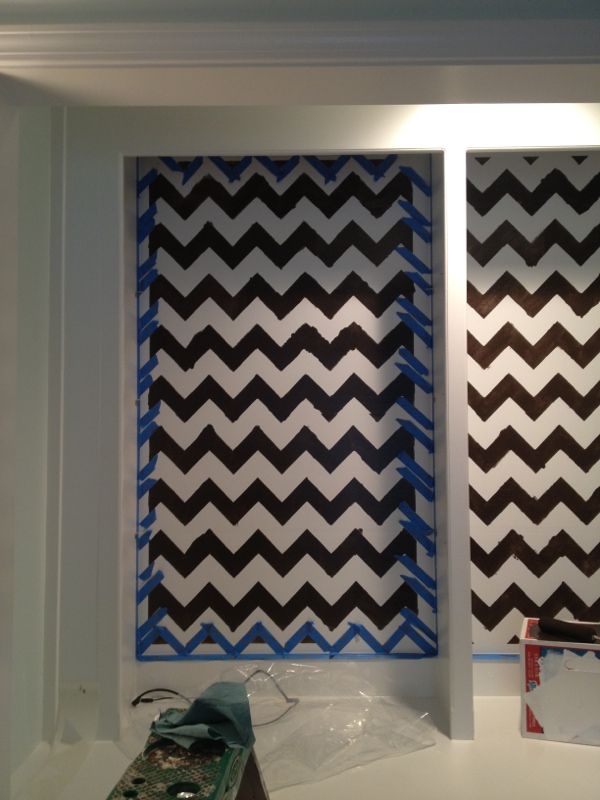 After lots of touch ups, I was done.
It makes me want to do this to my own bookshelves, but I am going to resist the temptation. I don't think they can handle anything else.... I have already taken down the grasscloth, by the wall - back to all-white!