Just thought I'd share a few personal photos from my iPhone of what I've been up to lately, design-wise...
This weekend, I rearranged the bookshelves in our bedroom. Arranging and styling shelves is probably one of my favorite things to do. I like them arranged without a whole lot of clutter, but also with some smaller items layered into other accessories, to create interest... it's a balance. Not perfectly executed here, but better than I had it before, for sure...
The little white owl on the top shelf was a find from Ross this weekend. That place is usually kind of dump-y, but I actually find some good stuff every now and then, amongst a lot of weird fake plants and Tuscan-y canvas prints.
This is Mika hanging out on the new mint/white zig zag rug I got at Urban Outfitters. He must always inspect new items -- I hope he approves.
This was a photo I took at the studio Friday of two drawers that I painted for a little chest I'm about to finish up... The top one is glazed, bottom one isn't. I love glazing freshly-painted pieces...adds so much character.
I feel like this is a piece Sherry would like... :) (that reminds me - I've got to show you the living room piece I painted for her and her cute client recently! It's on her blog right now, if you care to search...)
This is the penny-tile table I was working on a few weeks ago... I did a second layer of resin to make it smoother...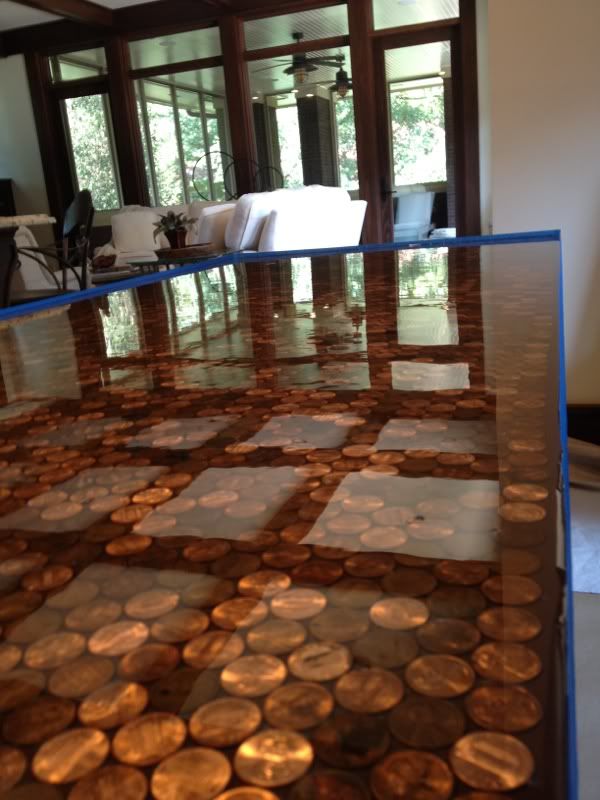 Pretty cool, huh? I will try and remember to do a full post on penny tiling.. I learned a lot in this process! I will also snap a photo of the table in its new home. It looks very cool in its permanent spot.
Lastly, last weekend I found these two little basket-box guys at a thrift store. I love the Asian touches on the hinges and corner hardware... I want to paint them, but I haven't decided on a color. And I haven't worked up enough energy to pry off all the hardware to paint them. Each box has 16 different pieces of hardware -- eek. Anyway, after making that skirt thingie for below the TV, I decided to take off the skirt and to put the boxes under there instead. It's what I always envisioned for that space, and they fit perfectly. Wahoo! I love when things work out like that.
Anyway - hope you enjoyed this random dump of photos from my phone! Happy Monday.