TGIF. I can't say that without enough enthusiasm - I am so glad it's almost the weekend. It's been a crazy week!
Anyway, today I wanted to share with you some work from an artist in Virginia. She emailed me this (So sweet), along with photos of her cool malachite mural, and I was blown away. It's such a killer mural...
"I

was inspired by your blog to recently start my own decorative painting business up here in Virginia. After graduating with a painting degree, I painted murals for friends for several years. I wanted to start a small business but was afraid to make the "jump."

Anyways, your blog inspires me and I am a faithful reader and admirer of your work. I wanted to share with you some photos of my most recent mural. Since I love

malachite

and it is all the rage now, I decided to give it a go and paint a

malachite

-inspired mural on a very willing (to let me try) client's wall. It is an accent wall that their bed will be placed against. I hope you like it!" -Jessica
Really awesome work, Jessica! Wouldn't you guys love to see how this room ends up being decorated? I would.
Anyway, onto the pics!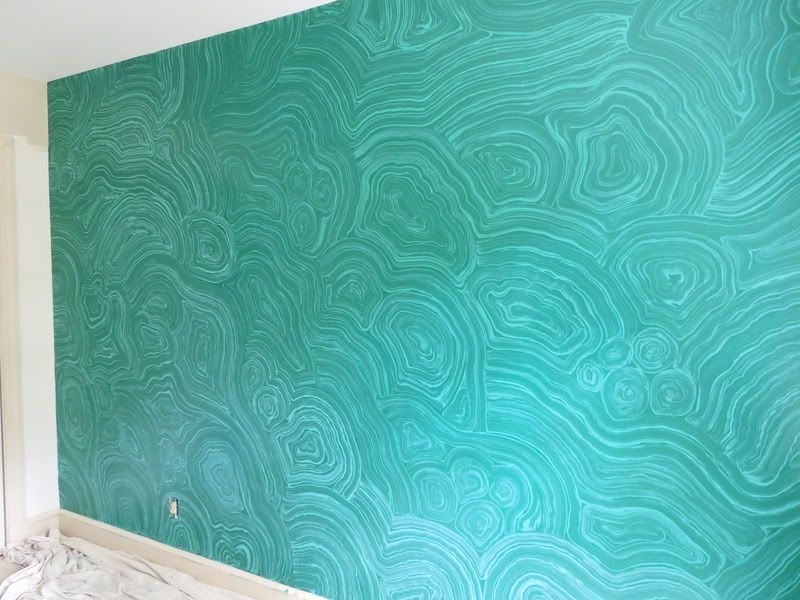 Thanks so much for sharing, Jessica, and GOOOOOD LUCK!