I would say at least 50%, if not more, of my work is painting old furniture that clients want to give new life. It is such a smart thing to do for lots of reasons...
1) It's cheaper than buying new
2) older furniture is usually better-made than new furniture (seriously!)
3) you can create a custom look that is entirely yours and colors just for your decor
So, that being said, I do a lot of furniture paintin'.
These days, I usually paint furniture in my studio, but last week I did several really large pieces in a client's home. These guys were super-heavy -- literally and figuratively, as far as "weighing" the room down.
This credenza was pretty, but it was not quite working with my client's newer, fresher look she's going for (Think: bluish grays, Dwell studio patterns in cornflower yellows, silver and white accents -- all together, more modern)
Here is the "before" of the credenza:
And a mid-way shot:
out with the old, in with the new!
Here is the after: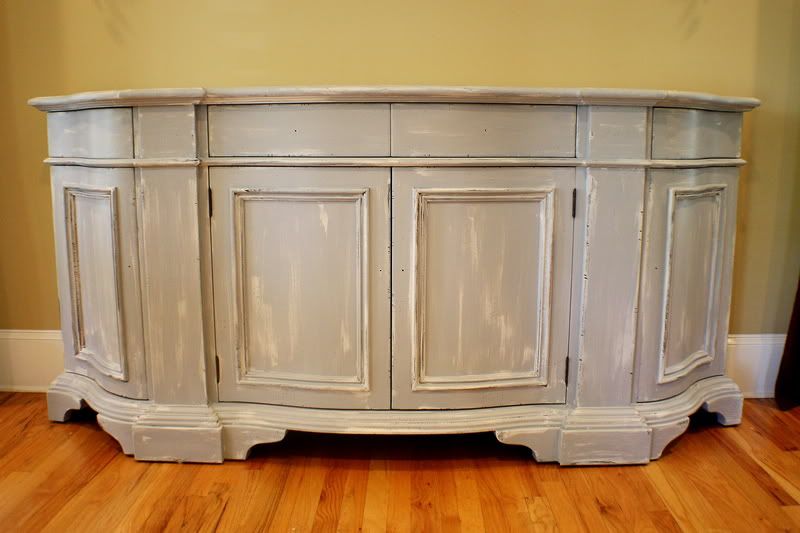 My client and I actually decided the first color we went with was way too light, so I darkened it a bit, and now it's kind of a two-toned distressed look.
Much better!
The armoire got a new look too. It was dark, dark stained wood, and I lightened it with a putty color. It's hard to see in this photo, but it's more of a brown-gray than the credenza.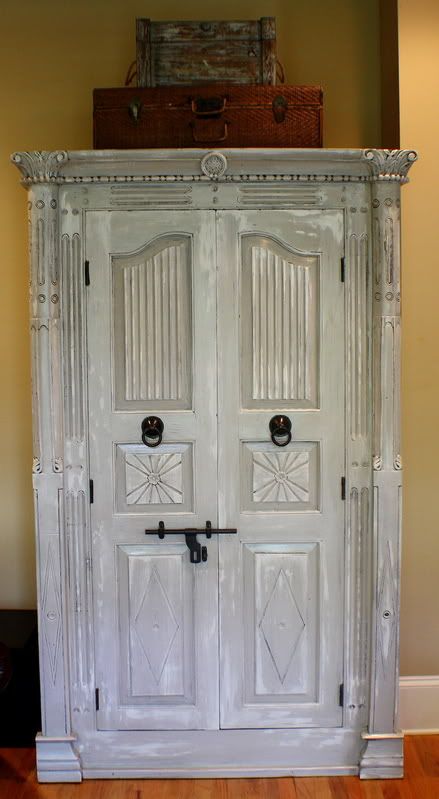 I did the white on top of the putty this time, to give a different kind of distressed look. it almost looks like the white is peeking out from under the putty, but really the white is the second layer. I snapped this photo midway through (done on the right, not on the left) so you could see:
you like?!