I finally got a chance to snap some photos of the curtains that I made from some fabric I bought at Spoonflower. I did this about 3 or 4 months ago. This was the first time I'd bought anything at Spoonflower, and I really loved all the options I saw on the site. Sometimes, the fabrics you see in stores is just a little too boring, and a little too beige, ya know? We have some great fabric store options in Atlanta, but I find they tend to carry fabrics that are very much on the "safe" side, so exploring my options at Spoonflower was so much fun. They have lots of colorful, hip, and cool fabrics at all kinds of price-points. I ended up going for the Basic Combed Cotton option, but I think, in retrospect, I should've used a nicer option. This fabric was only $17.95 a yard though, and now I know! I probably should've bought the Heavy Cotton Twill for curtains, because mine is very thin, but I still like them, and I can always go back and blackout-line them in the future. I'm thinking I might do that.
Anyway, enough blabbing, here are the pictures!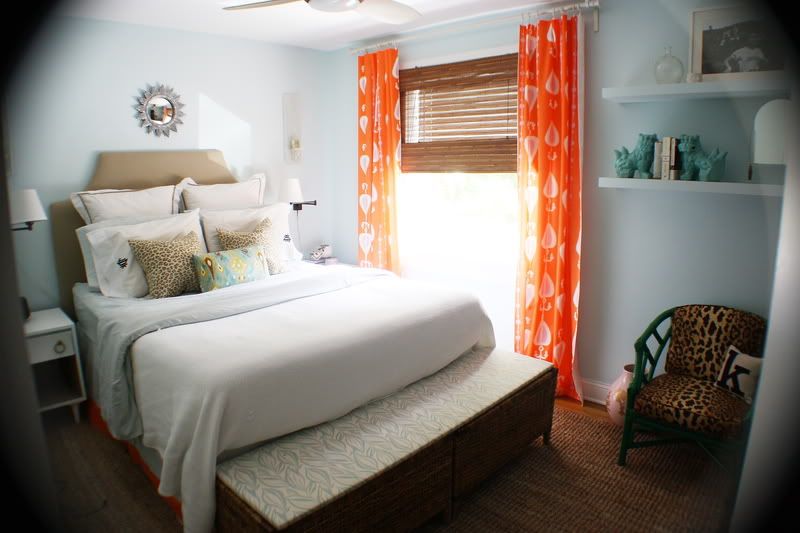 I just made the curtains the easy way that I always make curtains. I lay the fabric on the ground, and use stitch-witchery to iron and adhere the edges under. I used curtain clips to hang them. It's so, so easy, and if you are looking for a tutorial, I blogged about it 2 years ago here.
The fabric that I chose was by Spoonflower designer Fable Design, and the collection is from the Spring line here. I actually did think the fabric was going to be more coral and less orange, but oh well, I still liked it (and to be fair, Spoonflower recommended that they send me a sample first so that I could see the fabric before ordering my bolts, but I was impatient and ordered all my yardage first!).
I was going to put them in our living room, but I decided to put them in the bedroom instead, when I saw that the orange matched the orange on the bedskirt, and I thought the downstairs living room needed white curtains. I switched them out.
Remember when I lengthened the bedskirt a while back by adding orange "trim"?
(please ignore the mess in/next to my bedside table here!)