Hi! Did you guys read my Mycolor inspired by Pantone blog post about the decorative trashcan I painted? I'm still loving that trashcan (it lives next to my dresser in my bedroom now), but I wondered if you guys noticed the difference in my bathroom?
This is what it was looking like about a month ago: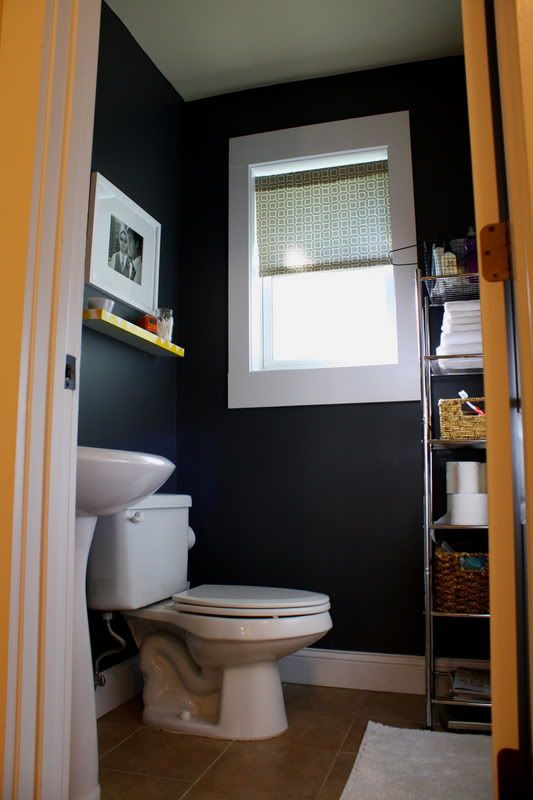 The "Black Horizon" walls were great for about 2 years, but in the bathroom, they began to get dingy fast (our bathroom is teeny tiny). I decided I prefer a cleaner, brighter look (well, who am I kidding, for now at least!) so I made a few changes. I was considering new tilework, but I think I'm holding off on it for now. I still would love white subway tile in the shower (to the ceiling), and carrera marble tile on the floors. Anyway, I mixed a few colors I had in the studio together, and created a reallllly light gray (almost white) for the walls: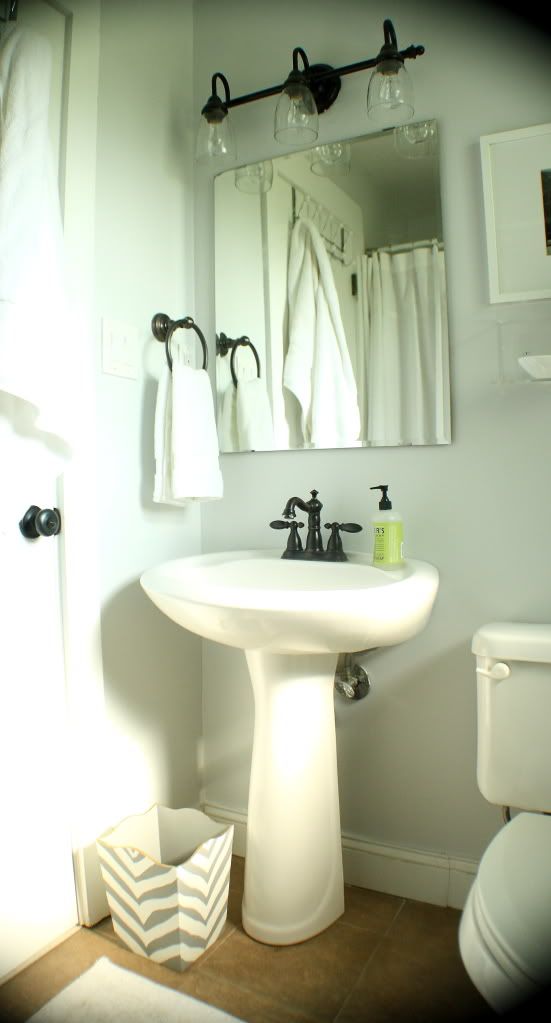 You like? I also replaced that light fixture, as you know. It was initially a cheapie ($30) one from Lowe's, and I spraypainted it in the dark oil rubbed bronze. I also sprayed a little dark hammered black spraypaint. Both were by Rustoleum. The final look is a custom color light fixture that I like. I would prefer a brushed nickel or chrome look, but all of our door knobs. hinges, and fixtures in the bathroom are oil rubbed bronze, and I'm not changing those.
Other things I did are replace the shower curtain (I got a simple white linen one with a white border from Pottery Barn), and the old shower curtain rod, which was plastic white, and put in a brushed nickel one from Target. I justified brushed nickel there because the little shelf that we have in the bathroom is also silvery. Finally, I bought a silver trashcan from target too, and called it a day (we needed something more substantial than the decorative one in there, I thought).
Hope you like my mini-makeover. I really need to re-shoot my whole house! Things have really changed, but I have been a crazy-busy lady (aren't we all?), and haven't had a chance to re-photograph.
here is a photo from my blog about the trashcan. Head on over there if you missed it! I painted a cheapie $6 trashcan from Hobby Lobby in a cute zebra/chevron pattern, trimmed it in gold, and created a cute look for a powder room.