I've been getting a lot of canvas commissions lately, which I really love. Abstract canvas artwork is not as easy at it seems, but I think that when it is done well, it really adds a lot to a room. I read on
Sketch 42
's blog the other day, a great quote about modern/abstract artwork. She was visited the MoMa, and was observing the famous One: Number 31 painting by Jackson Pollack, and wrote this:
"Pollock made his paintings while laying them on the floor. He used a combination of paints, motions and textures to create all over paintings, that while seemingly random and chaotic (a chief criticism of his work), is actually, if you look up close, completely un-random. The artists choices and master-y are all over the painting, and while this may look "easy", sometimes you can tell how good a piece is, by how crappy its imitators look by comparison. Like all abstract art, it looks easy to do, but when done badly, its just such an EPIC fail."
Such a true statement about abstract art! It is NOT easy to get abstract art "right," no matter that many people feel that it's elementary and easy. I often feel that it is 100 times easier to draw a sketch of a person or an object with accuracy than to do a painting like this. I think one of the hardest things is knowing when to stop...knowing when to let negative space be negative space, and when to add color or movement. I will sometimes paint a hundred paintings "under" a painting, in order to get the right look or feel. I should probably make a stop-motion video of the process of painting a canvas like this. So many layers involved!
Anyway, enough blabbing I guess... I wanted to share this piece with you. I love how organic it feels...it has a feel of cloudiness...almost like looking at earth from space...but then some places feel like you are looking at a piece of marble or a rock under a microscope. Nature is cool like that...not to be imitated, but such distinctness in form.
My client was specific about the colors she wanted...blues...greens...yellows. I love the mints and turquoises, and I really like the areas that kind of look like tie-dye!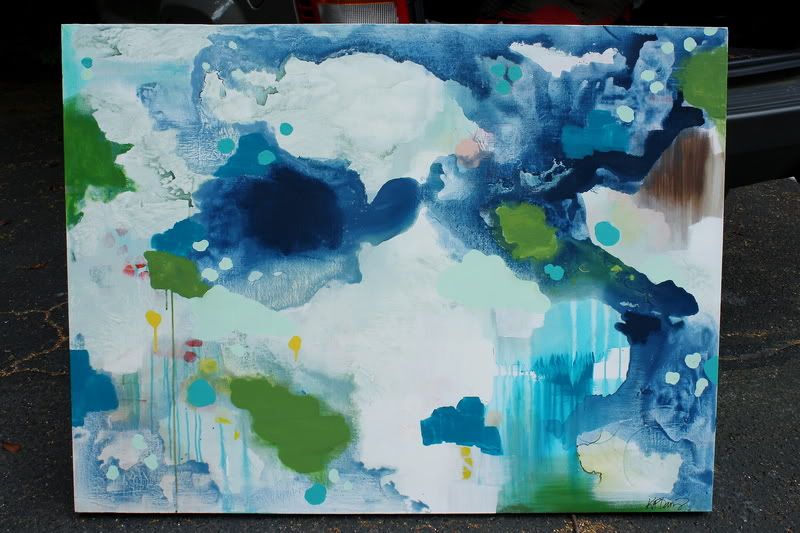 This is it, propped up against the back of my Jeep before I shipped it. Not a prime place to be photographed, but it'll do.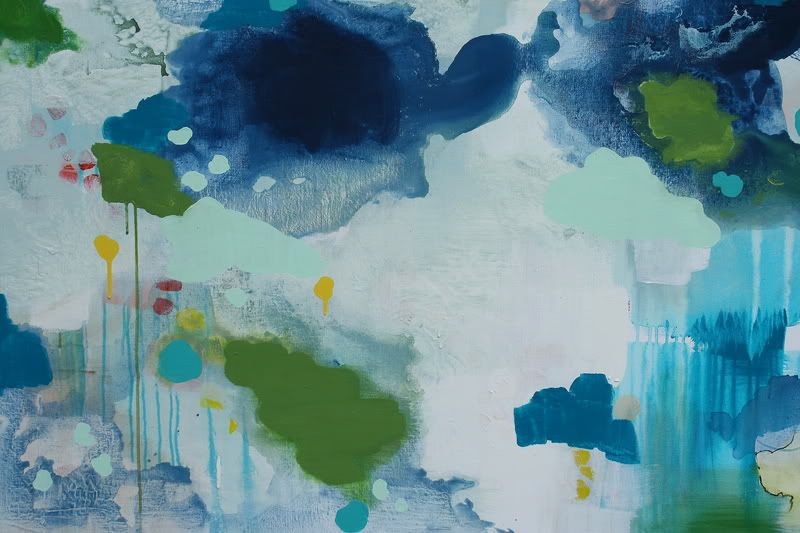 If you want to commission a canvas, please email me at Kristen.fountain@gmail.com .. they are shippable!