Yesterday, I was looking at something or another on my blog, and saw a post from 2009, when we first moved into our condo. I was really into white, and so I painted the whole place white, and this is what it looked like: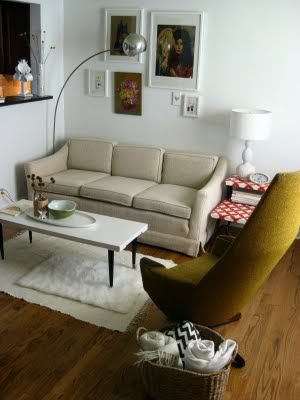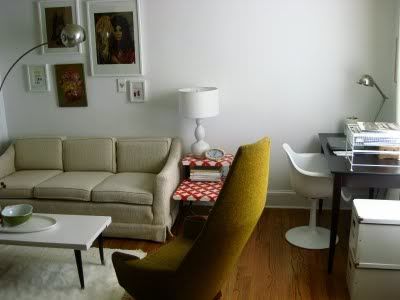 I had it divided into two little sections (crazy for this room, which is pretty small to begin with!), which were an office area for Jordan, and a living room. That's my same couch I have now, before I
had it reupholstered
(and before Mika, my cat, destroyed it with his sharp little claws). It's a pretty big departure from where we are now:
For some reason, I've been craving another change in here :) I'm surprised that I haven't wanted to change things up before now - our living room decor has been the same for almost an entire year, which has to be some kind of record for me. Anyway, I still love all my living room decor, I just want a switch-up. I'm considering painting the walls, or maybe just the bookshelves white. What do you think?