A little while back, I painted this rug for a client. I blogged about it on my Mycolor blog, but I didn't ever really talk about it here. I loved the project, so I wanted to share it here, as well!
A client of mine wanted to add a decorative touch to a rug she bought from Ikea at a steal – only $40 for the whole thing, which was 5×7′. She was going to put it in her kids' rooms, which are a nursery for a baby boy and a little girl.
I borrowed this idea from CRISTI HOLCOMBE (tweaking it a bit with my own experiences), and me and my client loved how it came out! It's the perfect graphic touch, and you can't beat the price!
Anyway, to start off, I used a roll of contact paper and placed it onto the end of the rug, from top to bottom. I'd drawn out my pattern on a piece of paper, so it was ready to trace onto the actual contact paper.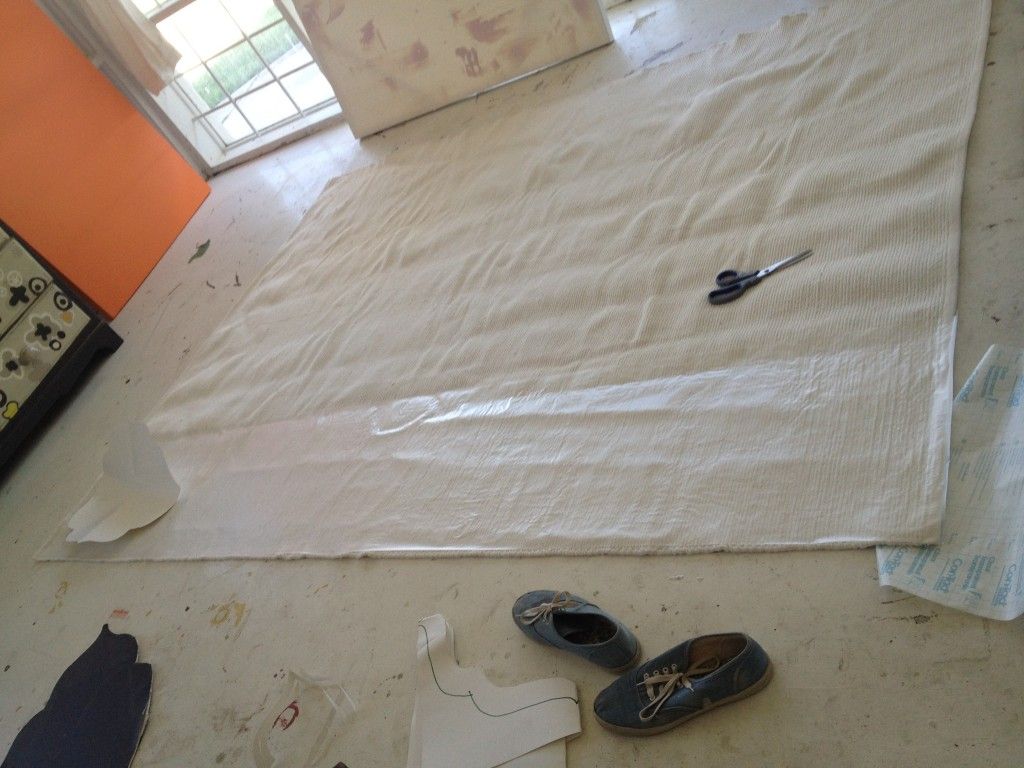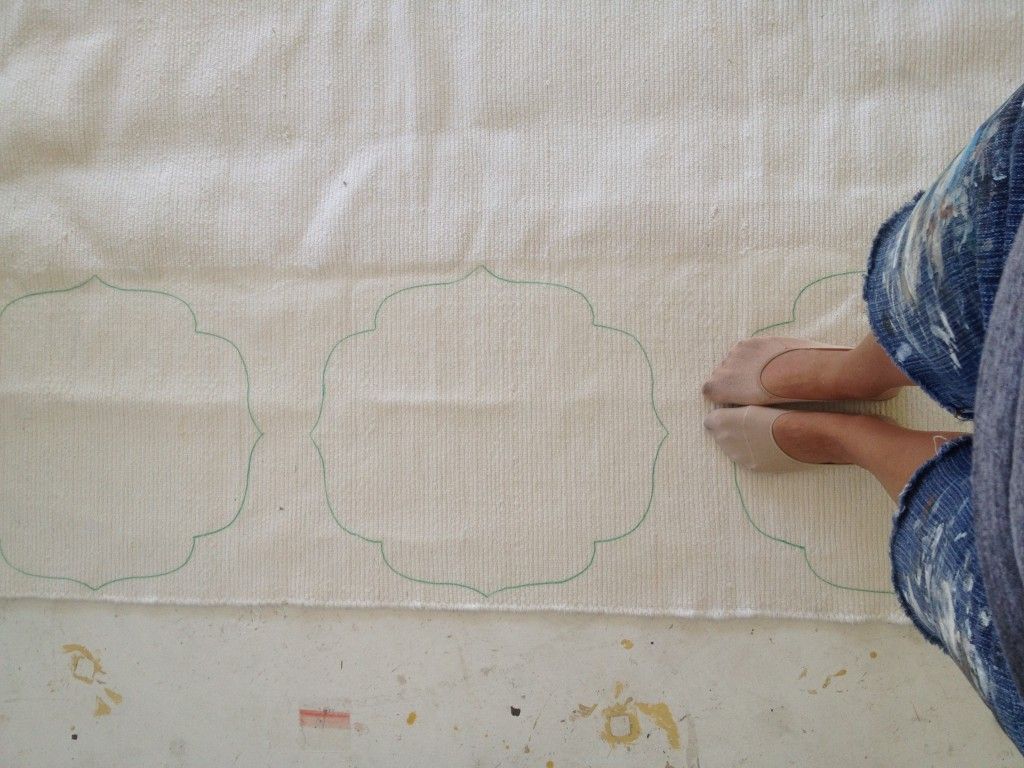 Then, I repeated the pattern all the way down the rug. It made about 4 and a quarter of the little medallion patterns, so when it came time to move my pattern over, I switched the placement of the paper to be upside down, so the pattern was "short" on the other end, which made a more even looking/intentional pattern.
I also realized early on that it would take 4 rows of my pattern to fill up the whole space, which was important to me.
Next, after I drew my pattern onto the contact paper with a permanent marker, I cut it out with a razor blade. Very easy! After that, I poured my paint in paint trays, and was ready to go.
I used foam furniture rollers to roll my paint on (the small ones!) and MyColor™ inspired by PANTONE®'s "Honeysuckle" (color of the year last year!) and "Raw Sienna" as the colors.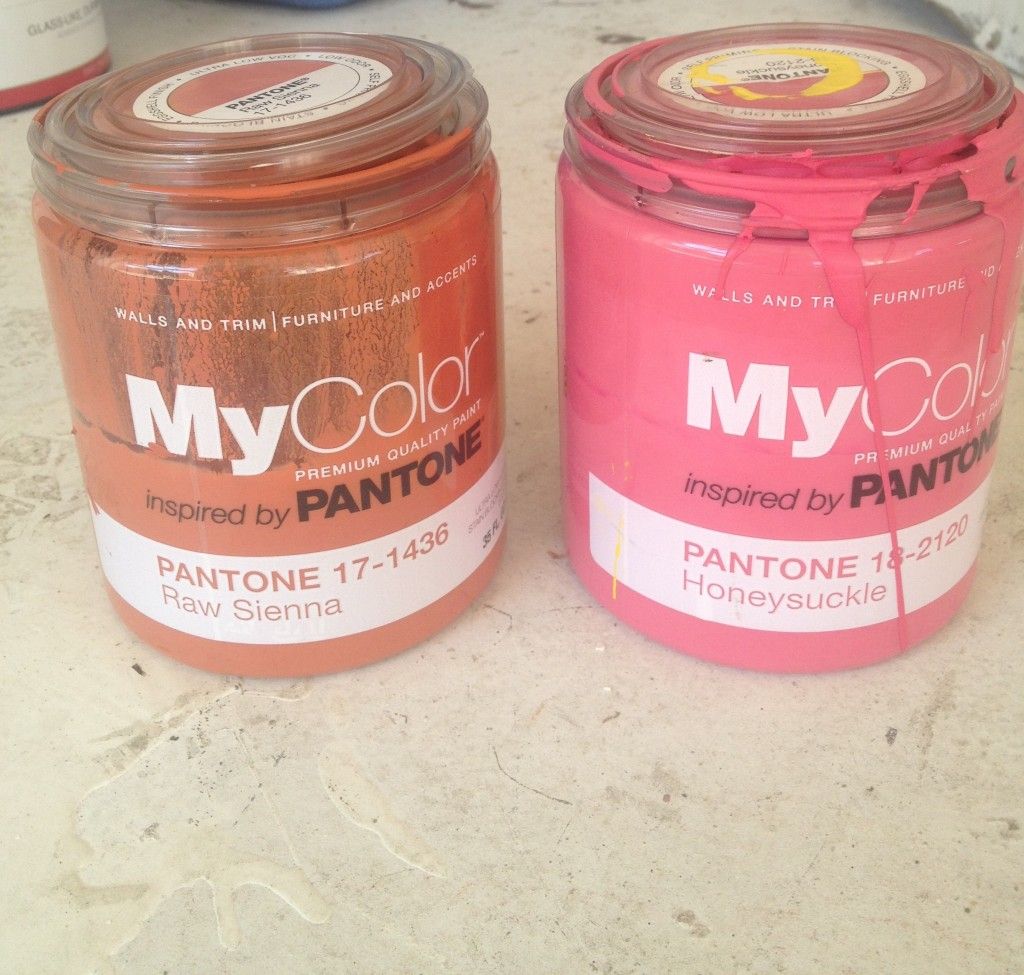 and, I rolled it on! I did all of the medallions in "Raw Sienna" except one – off center – in pink, because my client wanted it that way. I loved the idea!
I rolled it on, but I did not let it completely fill the rug's weave. I didn't want it to get too "crunchy", and I thought the fact that it didn't fill the whole weave made it look more legitimate – almost like it was woven into the rug.
Hope you enjoyed this project! Happy new year everyone!