Hi! Just wanted to say Merry Christmas. I'm about to do some cooking and prepping for all the Christmas festivities, but I wanted to drop in and show you guys pictures of my humble Christmas decor. It's a little boring, but I thought I'd share anyway, since I've done it every year since I started this blog.
first up, the tree!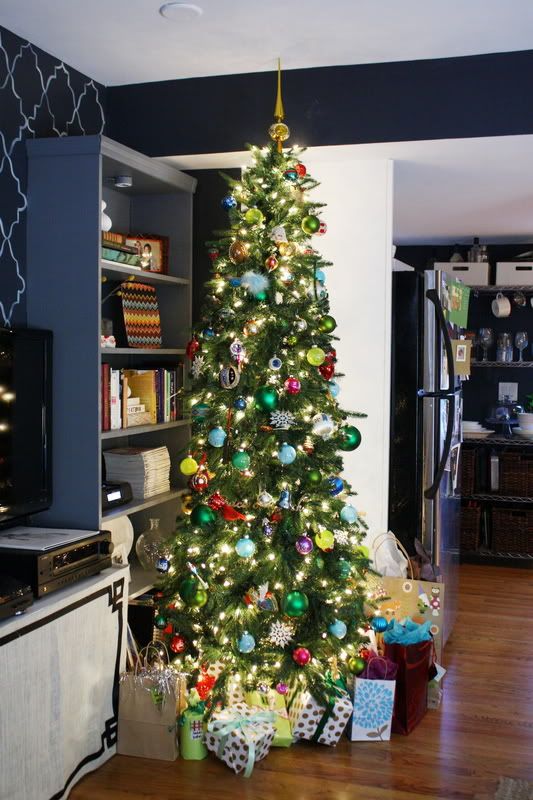 You can see my DIY
hand-colored ornaments
- they turned out pretty nice! Other than those, we have lots of vintage ornaments and a few keepsake ones from when I was little. I got a skinny faux green tree from Hobby Lobby this year. (you might remember my
vintage red tree
, and my
white tree
from last year. I get a new idea every year...I'm such a weirdo. I do still love all my trees, and next year I'm sure I'll put another one up! One day, when we have a bigger house, I'll have all of them out.) For some reason, I was really wanting the look of a real tree, and we debated going to the Christmas tree farm and picking one out, but the idea of sweeping needles and watering it seemed a little daunting. Plus, Mika has a real affinity for eating plants, and I'm sure he'd try to chow down on a live tree hanging out in the living room...silly cat.
I bought cute wrapping paper from Hobby Lobby. I bought two kinds - one is chartreuse green, and one is white with gold polka dots. I bought mint and kelly green ribbon to use on the packages. As the season has been coming to a close, and Christmas gets closer, the wrapping has turned into a not-so-pretty mish mash of all types of bags and bows, but I still love my new wrapping papers. Jordan always wraps his gifts in Trader Joe's bags, so there's also that :)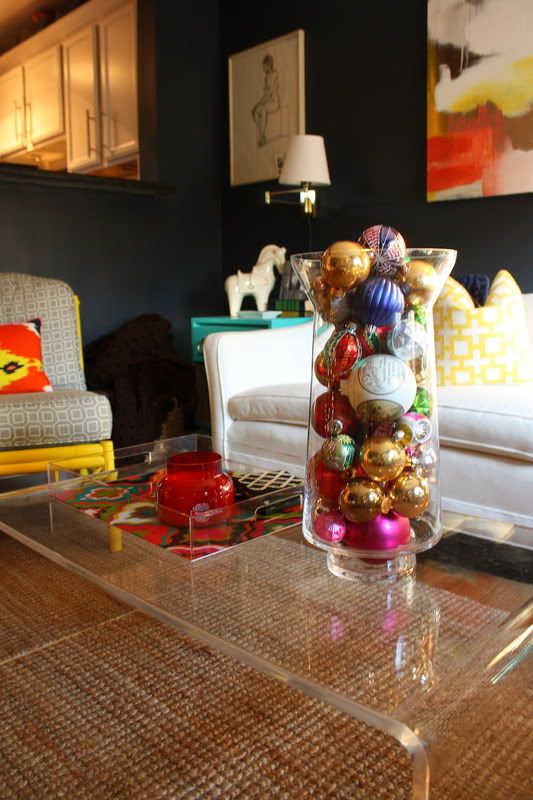 Here is our coffee table. I had a lot of pretty vintage ornaments leftover after we decorated the tree, so I just placed them in this big vase that we have. Simple and pretty.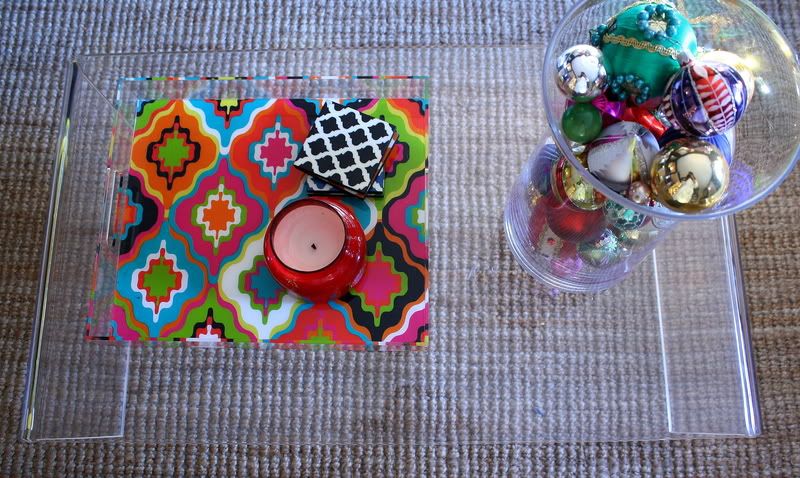 On a non-Christmas-related note, I also recently bought that tray at Pier One, along with the coasters. I love them both!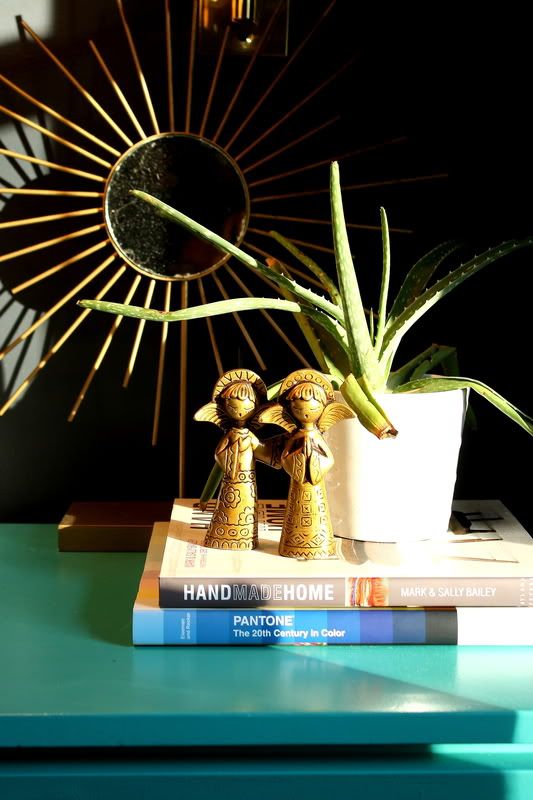 I have a few vintage Christmas items throughout the living room. Here are some angels that sit on the table beside our couch. (please ignore that mirror on the sunburst mirror. I got it at a thrift store, and for some reason, the mirror WILL NOT COME CLEAN. It drives me nuts.)
vintage Santas on the bookshelves!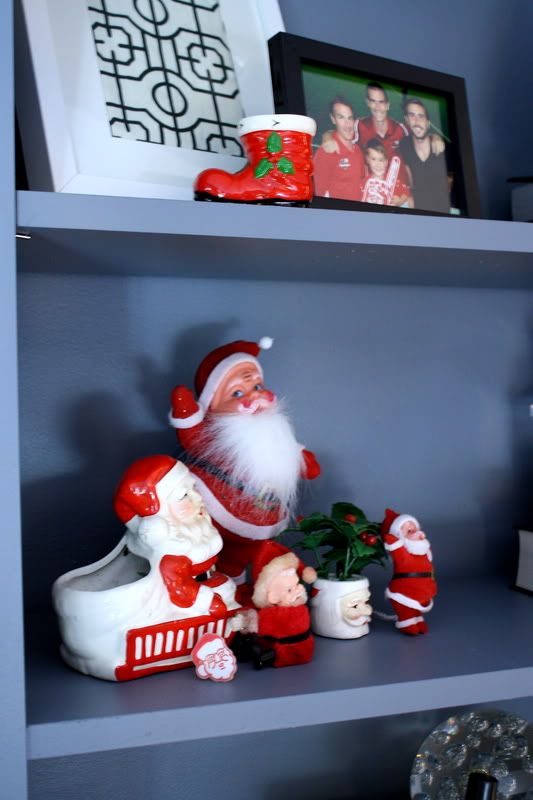 My mom finds most of my vintage Christmas stuff at yardsales. I think most of it is from the 50's/60's - that seems to be the time period that I love the most, when it comes to Christmas decor!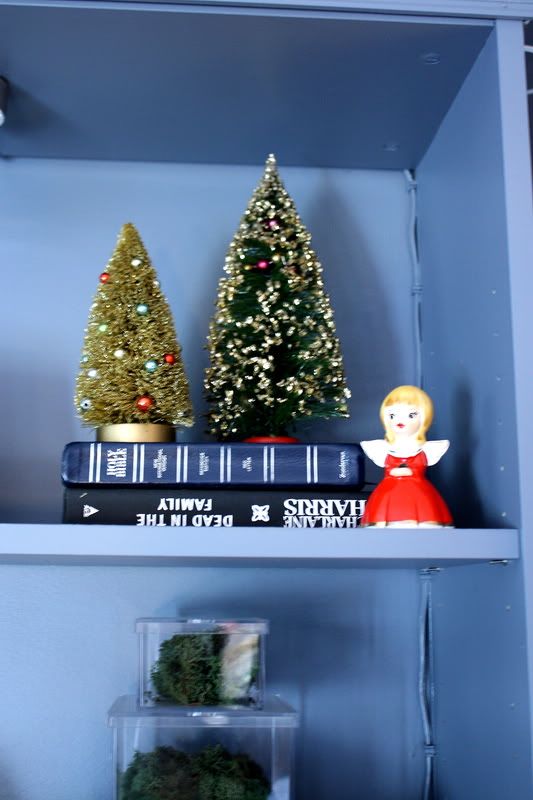 vintage trees (actually, the one of the right is vintage, the other one is from Target a few years ago) and a cute vintage angel girl. (Side note : do you love how I have a Bible and a True Blood book resting side by side? Oops)
my mom found this ceramic tree for me this year at a yardsale: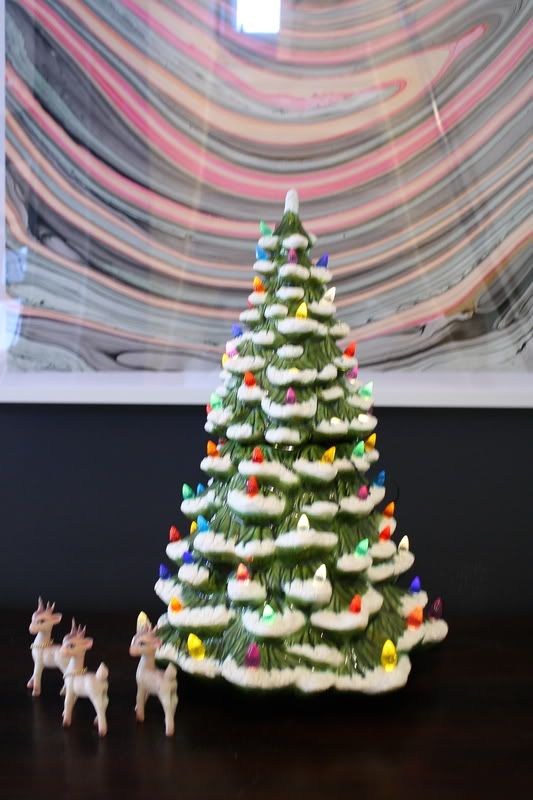 I love it, because when I was a little girl, my Nana had a few of these in her house, and we had one that she gave us at our house, too. My brother and I kept it in our bathroom as our nightlight during Christmas. The little lights come out, and every year you place them in their little holes. This one didn't have a light stand to rest it on, but thank goodness for the new battery operated lights that they make! I bought 2 sets at Target, and just placed them on the inside. It's pretty! The little deer are also finds from my mom, I think. The woman is a master yard sale hunter.
Last but not least is a tiny touch of Christmas in our bedroom. I put this little white tree from the dollar section at target on our shelf: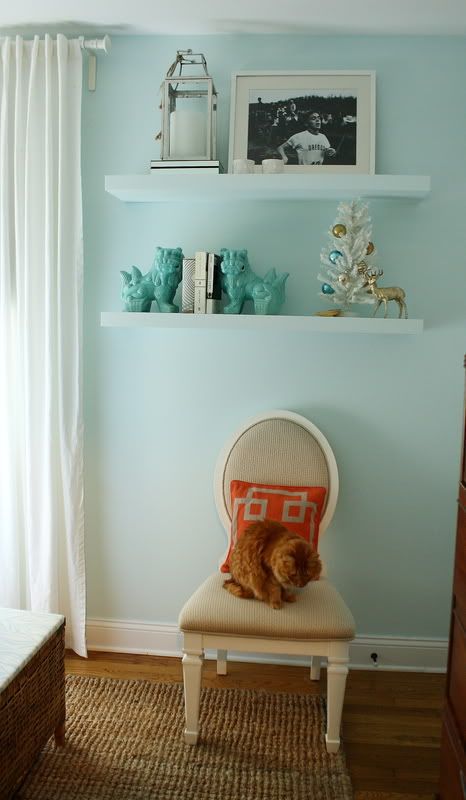 I placed a few color-coordinated balls on the tree, along with a vintage glittery deer
I took two shots of this shelf, and Mika was not in the frame on the first one. He quickly jumped down from the bed, and then jumped up onto the chair. He loves a photo opp.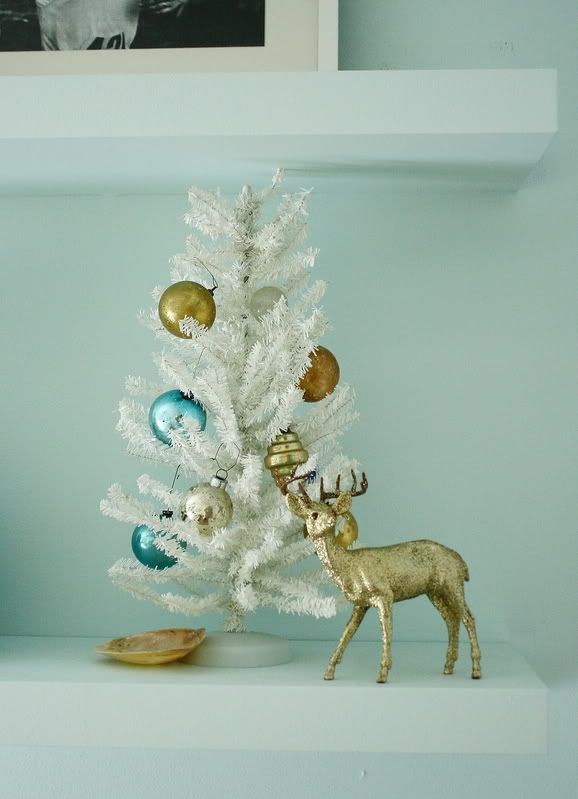 I meant to pick up another pack of tiny white battery lights, but I apparently forgot to. Oh well, next year!
just for fun, here are all my Christmases since I started this ol' blog:
Hope you enjoyed my decor...Merry Christmas!