Well, they had me come back for some more work (and more
door painting
, but I'll get to that later) and it was really fun for a doodle-r like myself. Strongbox is a office center for startups that need a place to work other than home or Starbucks.
I drew (with chalk, on a chalkboard-paint wall) lots of old-school nerd cartoons and signage (a lot of the people that work at Strongbox do computer programming, internet based work, etc).
Kayte
(the designer) gave me some ideas to run with, and run with it, I did.
Check it out! Before:
After:
Nerd-talk.
I'm a big fan of the phrase "talk nerdy to me." I added the winky-face for a little flair. This entire mural takes me back to my IM-ing days of college. Hilarious.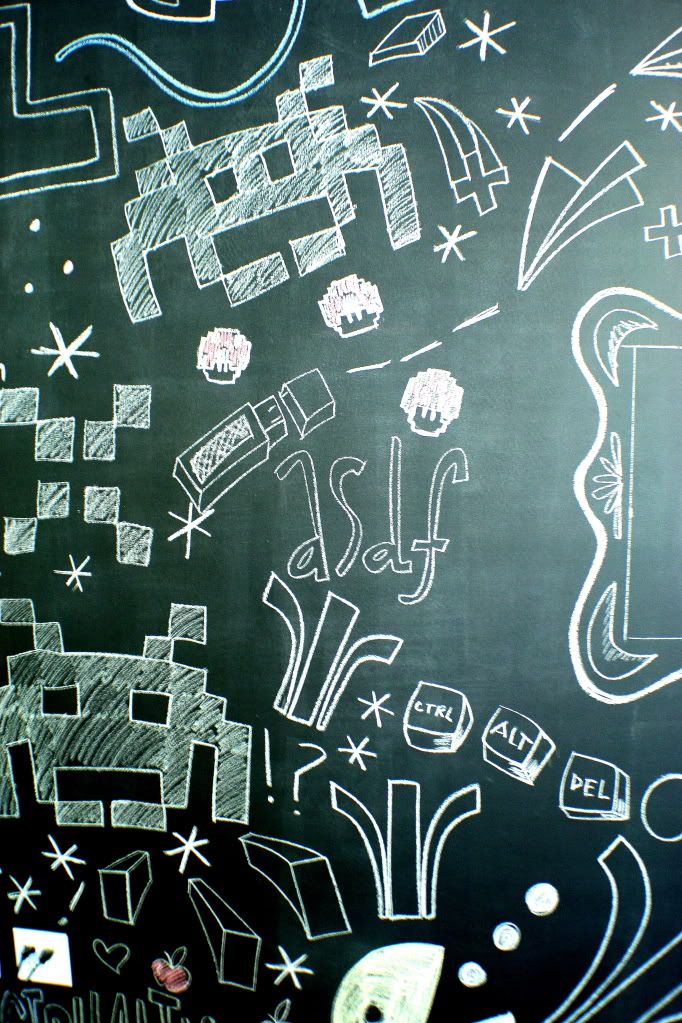 Those are little video game dudes from the days of Atari (I think). I'm not so much of a nerd that I can actually pin-point what they are...anyone know?
Also, incase it's not blindingly obvious, a TV will go in the center where I labeled "TV"
I do, however, know a lot about those Mario mushroom dudes. One up!
As a side story, when the first Nintendos came out, my brother got one. He was allowed to have a TV in his room to play it on (which was not fair, because we weren't allowed to have TVs in our rooms before we were teenagers), and even though cable was not hooked up to it, it got like one channel and I was SO mad that he had a TV in his room and I didn't. end of story. I was like 8. Brother got blisters on his fingers from playing Nintendo -- ULTIMATE NERD ALERT! Good story, huh?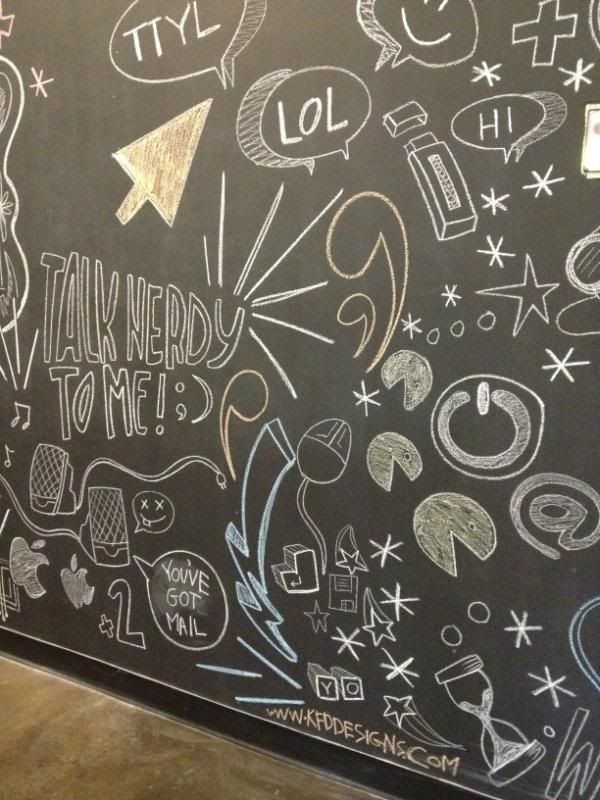 can you spot where I "signed" it?
I hope the folks at Strongbox have as much fun looking at this as I did drawing it. Also, it's nice to know that my weird college degree (drawing) is being put to use.
I also like the little paper airplane guys at the top - their faces make me smile.
Have a great weekend!