In my studio, there is a little room in behind the front big room (which you've seen), and the bathroom (which you've seen). It's a great little spot for projects-in-action, and to store furniture and canvases that clients drop off.
Anyway, I had a bunch of random artwork and canvases at my house, taking up space, so I thought I'd just hang them in the studio to get them out of the way! I started a gallery wall in the middle room, and here it is: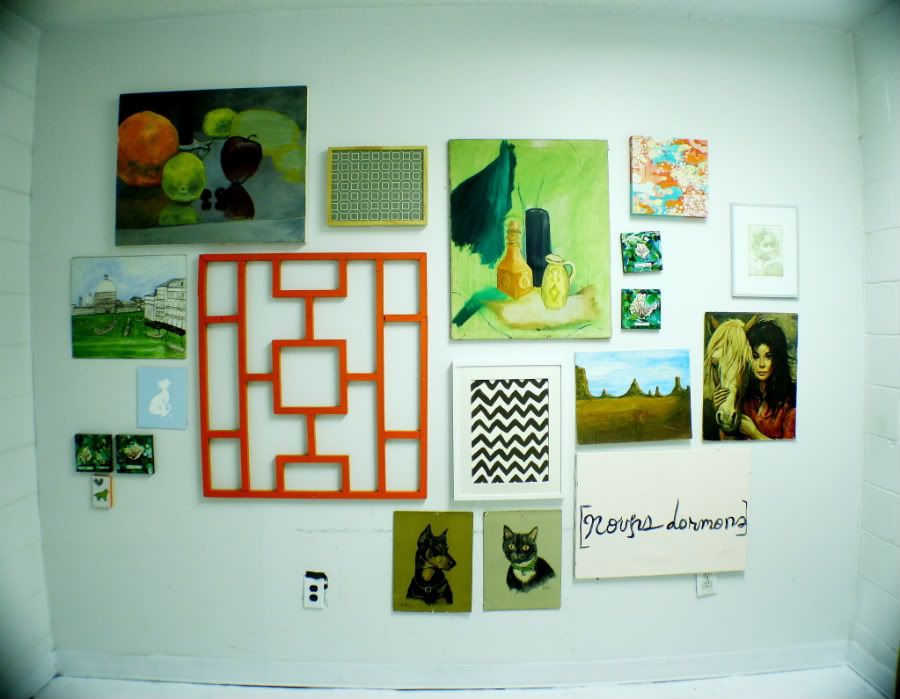 I just hung everything with no rhyme or reason, and here is where it all came from!
The big, orange, awesome piece was a gift from a client (hey, Katie! here's what I did with your cool wood piece! :)). Isn't it awesome? It was a tan color when she gave it to me, but I spraypainted it orange. It's very Jonathan Adler now, I think.
The chevron art work to the right of it is something that I made a while back. I just brushed chocolate-brown paint onto a little white canvas I had.
Remember
? The kitty cat silhouette was also something I made this same day.
The painting that looks like you are in Area 51 is a piece that I found down the street from my house, on the side of the road. You can see on it where someone was going to start some cacti, but they changed their minds and painted over it. The piece all the way to the left, that looks like it's probably supposed to be Venice, Italy, was also found in the same pile on the side of the road. I love the imperfection in these paintings, accompanied by the attention to detail. Someone put a lot of time into them!
The piece at the top left and the larger piece near the top right were thrift store finds. they're both oils, and I love them.
The "Girl with a Horse" print was from a thrift store, and the piece above it was a trade I did with a friend in college. The "nouns dormons" painting you may remember from my
old bedroom
, and the dog and cat prints were a thrift store find YEARS ago, that I will always keep and love!