Last week, I did a furniture makeover on this old armoire. I don't have a "before" photo of the armoire, but it kind of looked like this:
except, it was pretty dinged up, so it was already kind of naturally "distressed." :)
My client had this piece in her bedroom, which she liked. She was going for more of a rustic look anyway, but the wood tone of the armoire was too orangey-yellowy. We wanted it to be more brown.
First, I did a coat of brown glaze. I wanted to tone the entire piece down, so I knew doing this would be the first step. Then, I decided to give it some character, and knew that adding some offwhite spots of glaze would give it dimension and texture, so I did that. Here is a photo after I did that: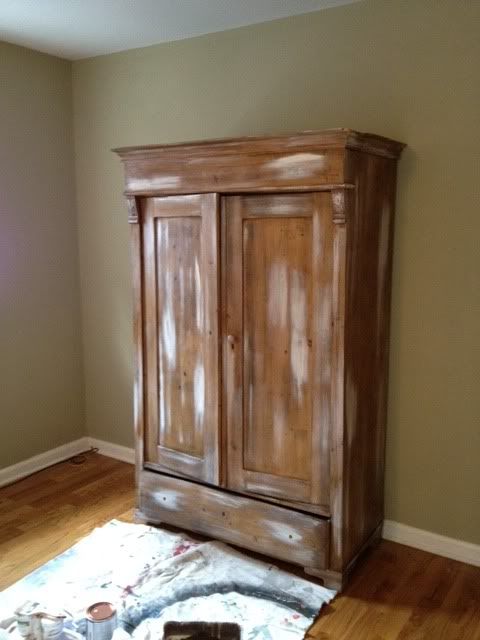 Admittedly, it looks a little crazy here. But, after I did that, I did one more full coat of brown glaze, then a 4th "spot filler" coat (meaning, I just go in where necessary and fill spots with glaze).
Here is the "after":
It was really hard to get a good shot of it, because it was still wet, and there was a big window in front of it with light shining on it, but hopefully you get the idea!