My riveting post titles keep you coming back for more, eh?
Anyway, las week, I built a table for the studio. I was headed out to buy some salvaged wood from the Atlanta Salvage Outlet (I think that's what it's called - it's off Howell Mill), when I drove by a house that was being renovated in Grant Park. I saw a beautiful piece of chippy yellow wood sitting out by the road, so I immediately pulled over. Turned out, they had tons of long panel-like pieces of wood that they were getting rid of, and let me have. Yes! I'm sure construction workers think I'm crazy.
I also had these metal legs from a table that I bought from a thrift store for $10. The table was one of those mix-and-match Ikea ones, so I was able to easily remove the legs.
Here is a photo of that lovely chippy salvaged wood -- isn't it awesome? It was the exterior of the house, and you can see lots of layers of different colors that the house was painted over the years. It's also cool to build a table with salvaged wood from Grant Park, because it's where I live. Grant Park has tons and tons of beautiful old "storybook" homes.
When I got back to the studio, I laid them out on the ground, and figured out a pattern and size that I liked.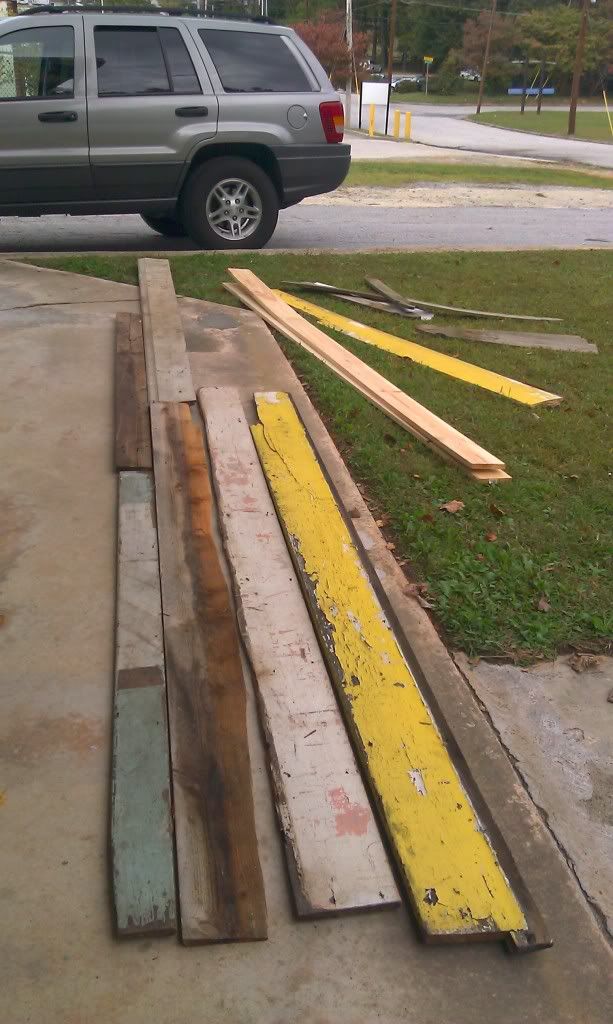 I wanted the table to be ten feet long, so I measured the pieces, and cut the wood accordingly.
I just laid all my wooden pieces out horizontally, then cut shorter pieces of wood and nailed them vertically all down the bottom of the table. I hope that makes sense!
As you know, I am NO furniture-builder, but it came out sturdy enough (I wouldn't necessarily recommend sitting on it...). It's going to hold brushes and supplies, and generally just be a long desk for the studio.
Here she is!