I feel like I really haven't been sharing many projects from my own home as of late - I sort of redecorated my living room in the spring, and I've been enjoying it ever since. Having said that, I am not a person that can leave things alone for too long, so of course I have been making little tweaks and changes along the way. Do you guys do that? I know some people can redecorate a space and leave it for ten years - I don't think I could ever do that. I can barely leave the same furniture in a room for more than one year. I'm not sure if it's the small space we have, or just my constantly changing tastes (blogs don't help that), but I am always craving change in my home!
Anyway, I just wanted to show you guys a little nook in my place that makes me happy. I love, love, LOVE color, so the combo of hot pink, black, navy, turquoise and green on this side table in my living room catch my eye every time I walk by. I think hot pink and navy have to be two of the best combo colors of all time.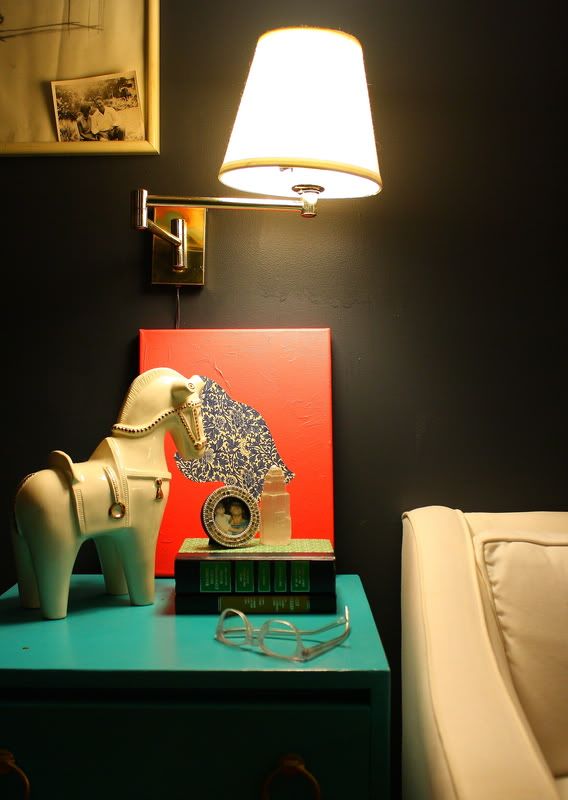 just as a refresher, the table was a vintage (yardsale) find that I got for WAY cheap, and painted turquoise (I also
wallpapered the insides with grasscloth
). I added the gold ring pulls that I salvaged off of another piece of furniture, and spraypainted gold. The ceramic horse art was a
thrift store find
. I made that cat head silhouette a few months ago - it reminds me of the
Carter Kustera portraits available at Jonathan Adler
(except mine has a bowtie). I painted the background hot pink, and made the head and bowtie out of vintage paper I scored at Providence Antiques here in Atlanta, before it closed down.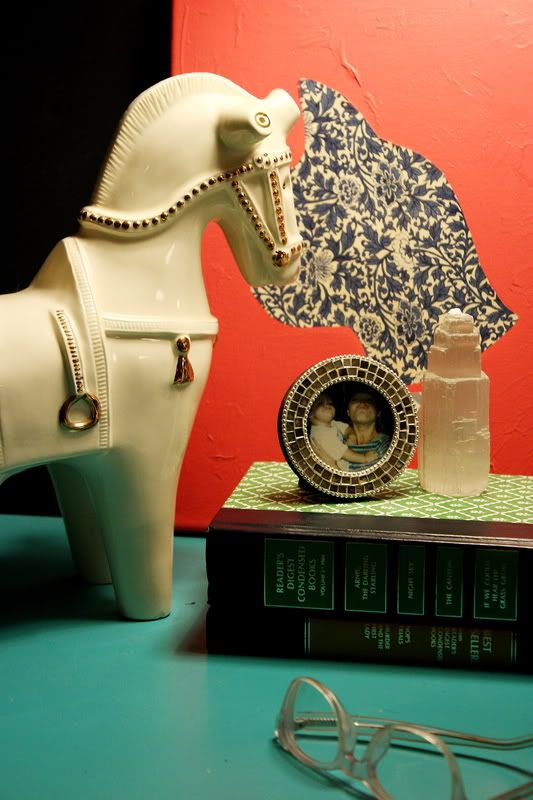 If you zoooooom in, you'll notice the Readers Digest books I have on the table. I got 3 of them about a month ago at a Goodwill. I meant to blog about them, but I haven't yet. Anyway, they all are colorful vintage books with awesome patterns on the outsides! I love this green one, and I also have a yellow and orange version. I'll show you guys all three at some point. Sitting on top is a photo of me and my mom when I was a baby. Wanna see closer? It's funny: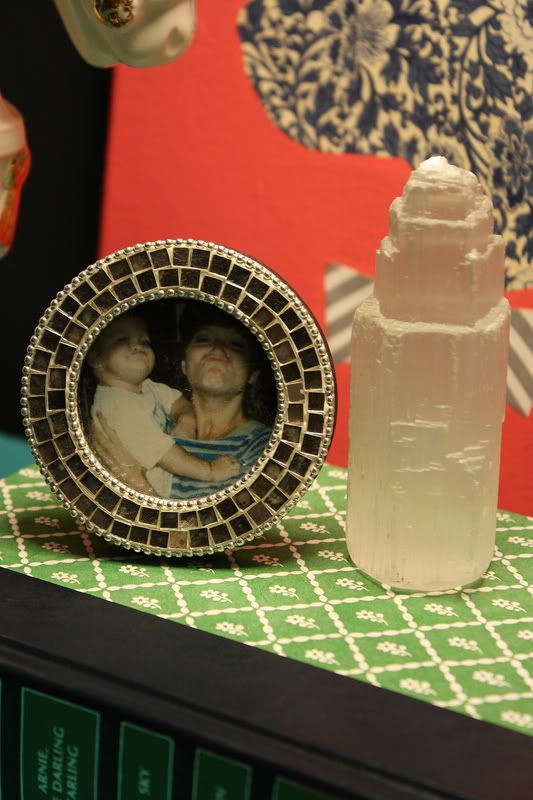 me and mom are making some pretty awesome faces there, eh? HAH! I was a real chubbster as a baby. :) Sitting next to the photo is some rock thingamajig I got at TJMaxx or Marshall's.
The end! I hope my little end table made you happy, too.
oh! and since a lot of you guys are new readers, here is what the rest of the sofa looks like: