i'm happy to announce today that i've been asked to be a part of the "
restyling 101: insider tips from the pros
" series, which is a collaboration between myself,
jelena of poppyseed creative living,
amanda from spruce
(in austin, texas, my 2nd favorite city ever, therefore i love her already. [#1 is nyc]),
nicole from oh clementine
, and
lia from mod pieces
(who actually is the one who arranged the whole thing). i'm really honored to be part of such a cool group of ladies (they're all really hip and smart creative gals! seriously, i do not lie.) the series starts on monday, so please check it out when the posts go live.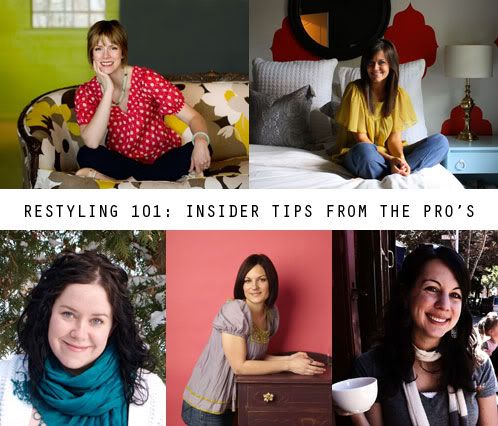 here is the info from lia's site:
Monday, May 9th - Jelena talks about distressing wood furniture.
Tuesday, May 10th - Amanda offers tips for light upholstery projects.
Wednesday, May 11th - Kristen sheds light on the art of freehand painting.
Thursday, May 12th - Nicole discusses stencilling tips & tricks.
Friday, May 13th - Lia talks spray painting & accessories.
catch you guys next week - have an awesome weekend.