just thought i'd show you guys a little progress update of my living room, and the changes i've made. as you remember, it used to be pretty light and airy, but i got a need for something different, so i did it! i painted the walls dark black/blue (benjamin moore's black horizon), and the bookshelves a hand-mixed (therefore, i don't have the "color") gray.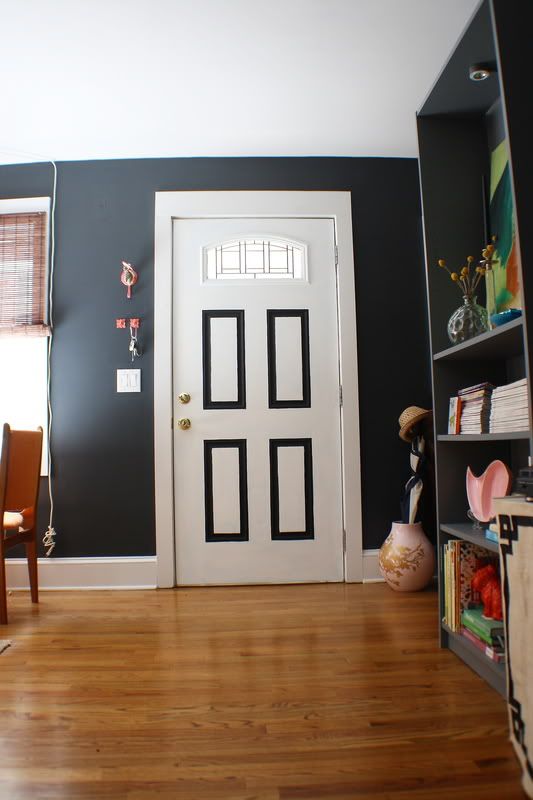 (but left the black bevels)
i did all of that painting in a work-week. let's just say, i probably washed my purdy paint brush about 100 times that week. :)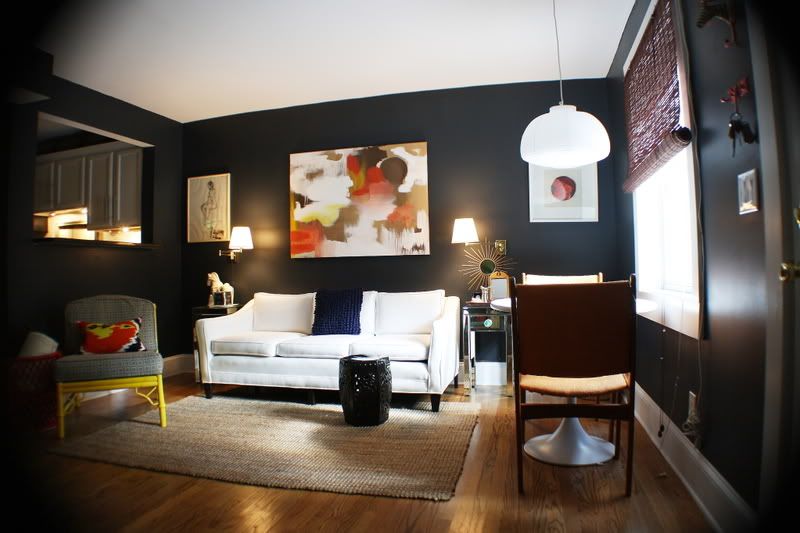 here is the view when you come down the stairs.
as you can see, i left the curtains off for now. i was liking the simple, clean look of a curtain-less window, with just the bamboo blinds. i'm sure that will change, but for now, i'm diggin' it.
i hung artwork on either side of the large painting i made. the piece on the left is a drawing i did in college, and the piece on the right is a circular framed painted-canvas remnant i bought from providence antiques.
i also bought that felted navy blue (jonathan adler) pillow from providence antiques. there is a starburst mirror that is sitting to the right of the sofa that i recently bought at a thrift store - it was originally from kohl's.
we are still without a coffee table. i was holding off a little bit from all my purchases before i buy the
waterfall table from cb2
. it will be mine soon!
you can also see the feet of the sofa (which i recently had reupholstered, and it's fitting in with our little family just fine) better in this photo, since
i stained them the dark espresso
.
and speaking of cb2, i bought this ikat pillow from there the other day. i brought it home with intentions of setting it on the couch, but when i did, i noticed it almost exactly matches
my painting
above. i think that subconsciously that is why i bought it. funny how the mind works that way! i'd wanted some neon in the room, and this pillow has a thin, neon pink silk line of fabric around the perimeter of the pillow, so it filled that "want" perfectly. not to mention, the yellow looks great with the yellow on the
chair that i painted
!
all in all, i'm really happy with how my little living room re-do has gone!
---
i'm headed to the nicholas house today to volunteer my painting services for the great "
room service atlanta
" project that i am so honored to be involved in. i will fill you guys in tomorrow on the progress i made!