over the past few days, i've been working out of town in canton, georgia. the area was pretty rural, and there was a "flea market" close to my job site. i stopped in yesterday, and picked up these vintage corned beef crate tops. at first, i thought they were really gross, and the thought of corned beef was making me want to vomit, but, their old-school look and spanish text had me hooked -- so i bought them.
i thought immediately of where i would hang them, and how they'd be hung, but the idea of painting them came to my brain later in the evening...and i just finished them! i'm very happy with the outcome.
first, i drew out the bull silhouette on the middle one with a pencil. then, i taped stripes onto the other 2. (i'm thinking i might actually add another thicker stripe to the bottom one)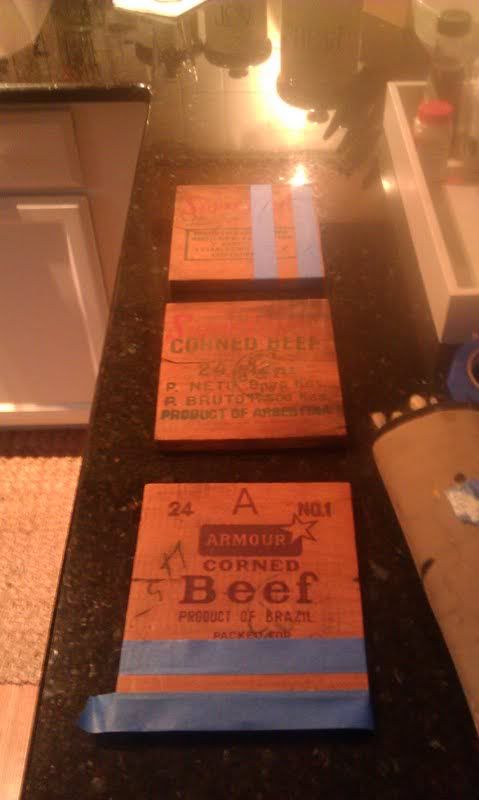 then, i primed the areas before painting them orange. orange paint does NOT go onto dark surfaces well, so i always make sure to have a full, solid coat of primer before i paint anything orange (or red) (or lime green) (other other brights).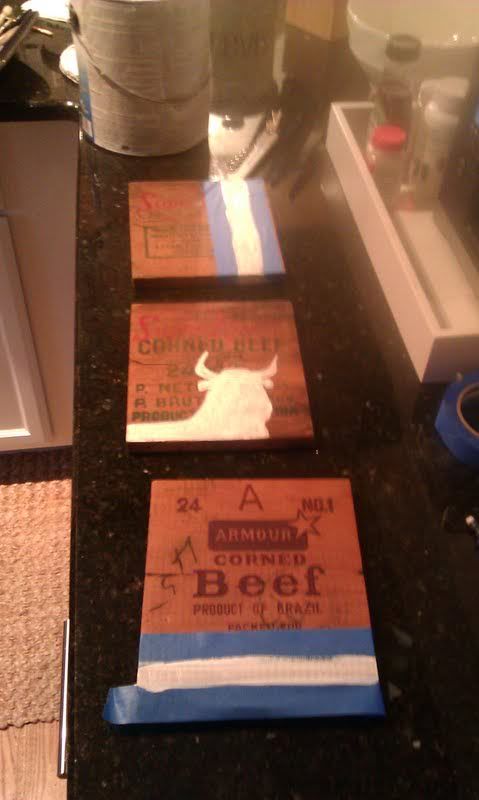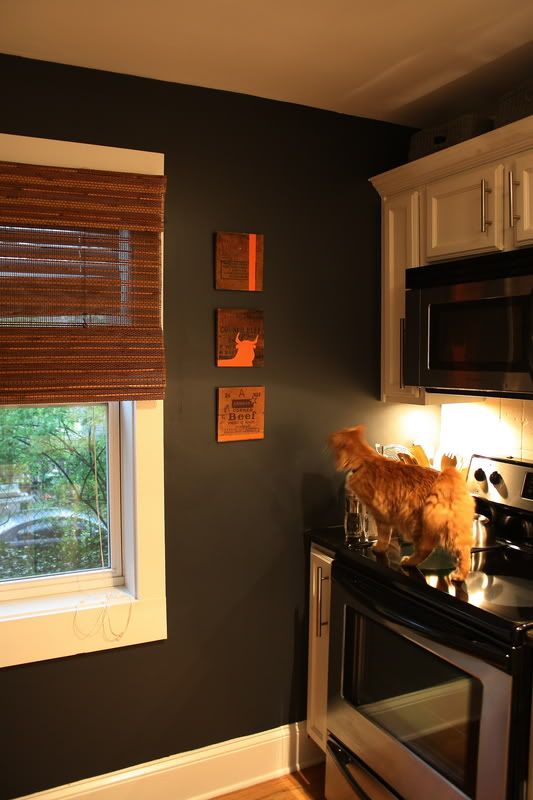 ta-da! mika inspects. i know it's gross for him to be on the counter. he's a little stinker like that.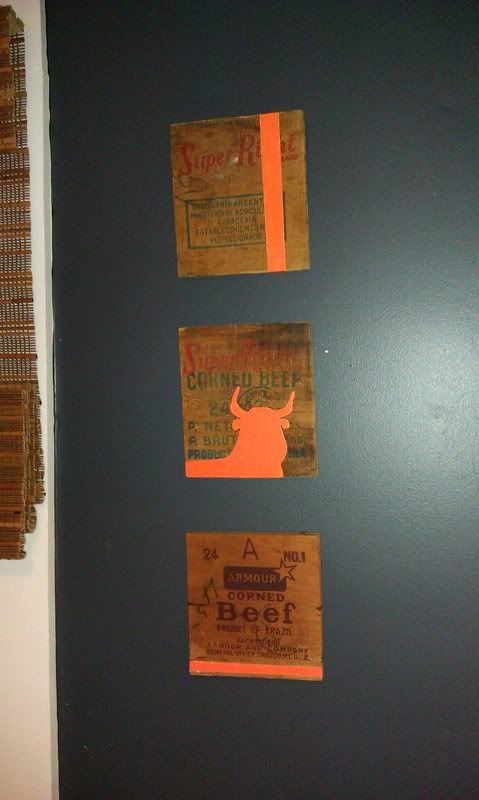 (phone picture which gives you the best representation of the color)
if you are very observant, you'll notice that i also painted our kitchen the dark navy-black color...and alas! we have no more chalkboard wall. i loved my chalkboard wall, but i decided i was tired of it. i'm in need of constant visual change!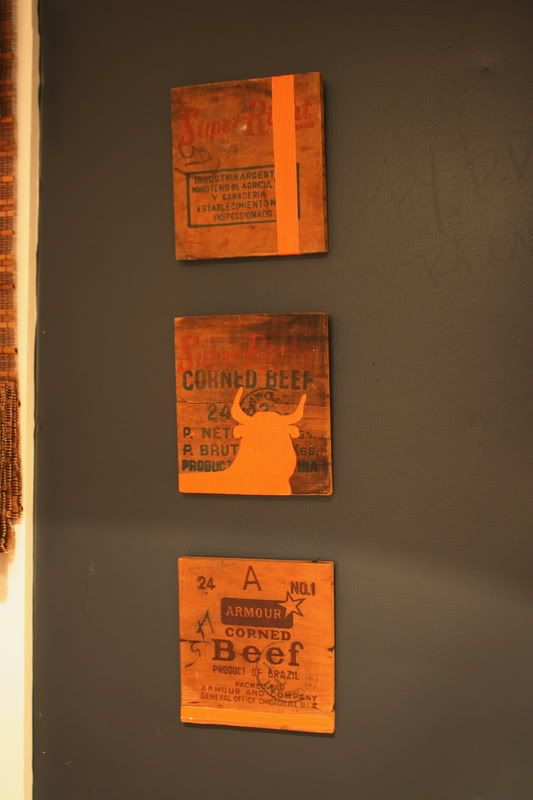 the contrast is a little off in these pictures, but you can at least see the stripes and bull better. (and you can see where "happy birthday jordan" was written on the chalkboard wall...i didn't notice a residue still being there until i looked at this picture!)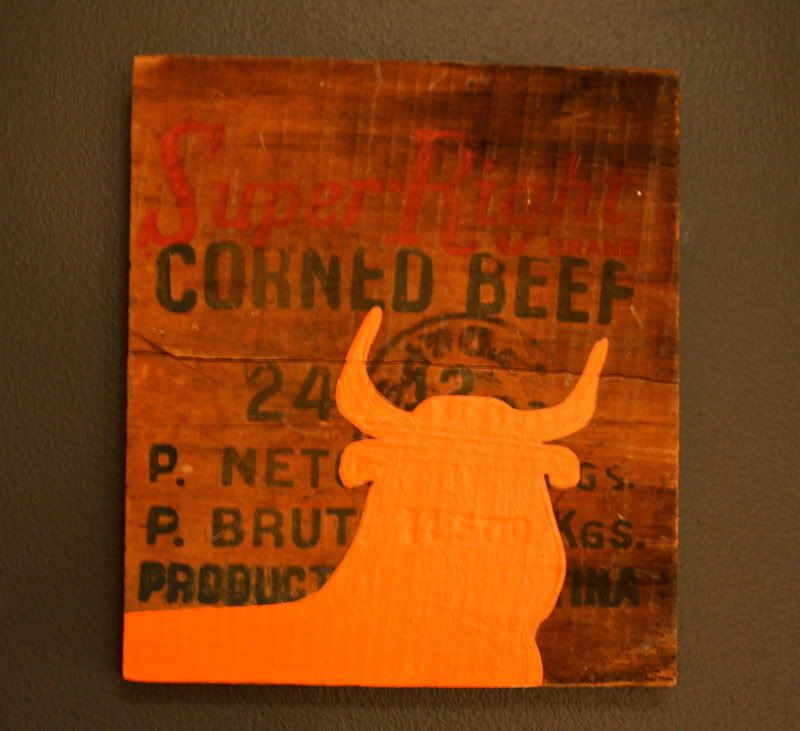 the stamp on the crate top makes it look like the cow has a halo. which is why you shouldn't eat cows. :) (i'm a vegetarian)