yesterday, i finally completed our second bedroom makeover...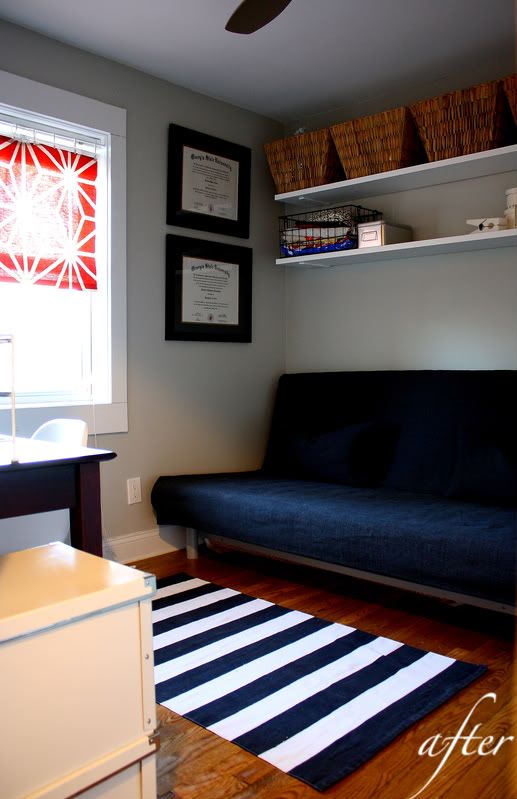 woo! the good news is, we really didn't get rid of that much. we've already done a lot of cleaning out and getting-rid-of, so most of the things in this room, we actually use. we just created better storage solutions and prioritized what was important to us when using this space (my mom would be so proud. she used to have me and my brothers clean out and go through our stuff regularly to see what we could "hand-me-down" or donate.)
because everyone loves a good "before & after", here it is:
muuuuch better!
we wanted a space for guests to sleep (so, sorry to any guests that have ever had to sleep on an air mattress or couch at our house! you now have a bed.), and still needed lots of storage. we quickly selected the
beddinge sofa bed
at ikea, but when i was thinking about shelving for the space, i had a few different ideas. i was going to buy all-new shelving, but then the lightbulb hit: just use what we already had! so, i took apart the old ikea bookshelves that we had (that are in that "before" photo), and kept the 4 shelves to use in the "new" space. we hung them with L-brackets (into the studs. also, the L-brackets are incredibly heavy-duty!), and i painted the shelves white and the L-brackets to blend in with the wall and shelves. see?
i had to paint them a glossy white, because all of the "white" furniture at ikea is really off-white. what's up with that?
i also bought these 4 baskets for the top shelf to hold miscellaneous kristen-things that need storing. i'm sure that second shelf will get rearranged and/or filled up in the future.
here is a better shot of the L-brackets, where you can see that i painted the part that is attached to the shelf white, and the top part grey, like the wall:
i also painted our file cabinet white (it used to be an orangey wood tone. you can see it sitting in the middle of the room in
this post
.):
much better, huh?
(practical) printer on top, and now also has a lamp. i got that cute little fabric that is mounted on a canvas above the printer at providence antiques the other day in the $1 bin.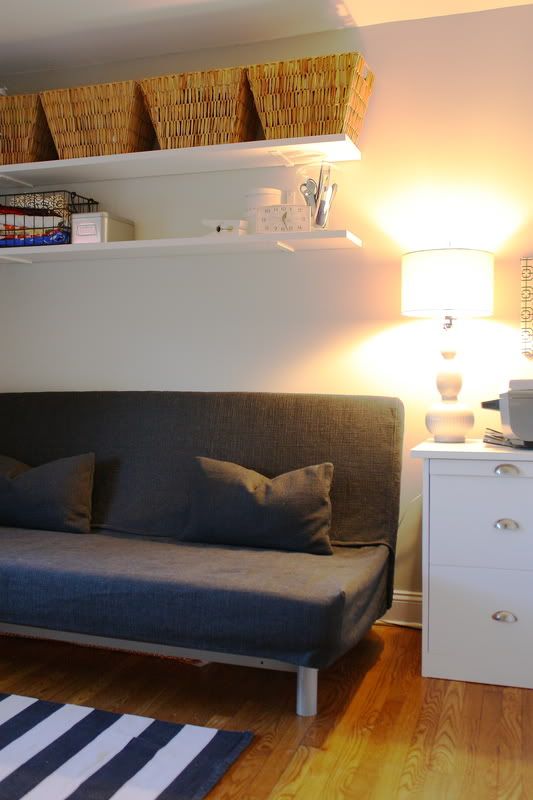 and, here is jordan's desk: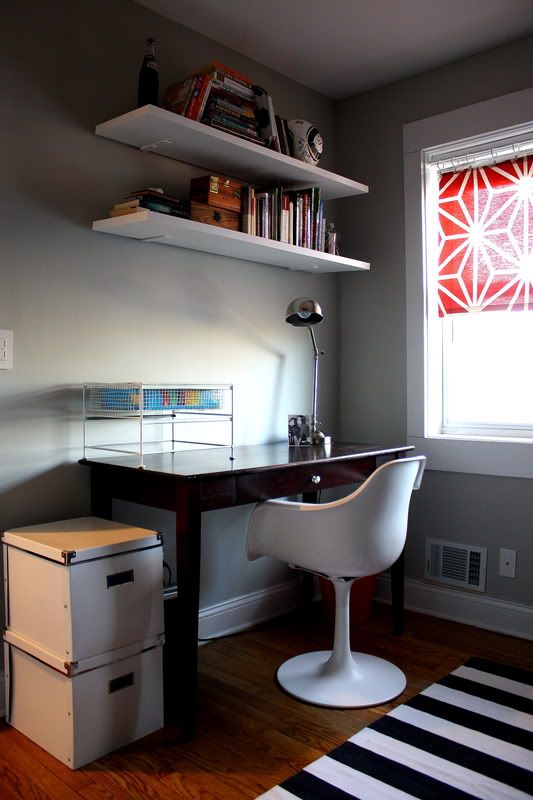 everything at his desk was already there before, but we added shelves above as well (also from the bookshelf). i sawed off about a foot on each shelf for these shelves so that they would fit a bit better, and i was so happy with how they turned out. can't beat free furniture!
i hadn't used my saw since
this project
, so i made jordan watch me do it, just incase i sawed off a finger. all was well, though, and it was easy peasy. i'm ready to saw anything now. i am woman, hear me roar.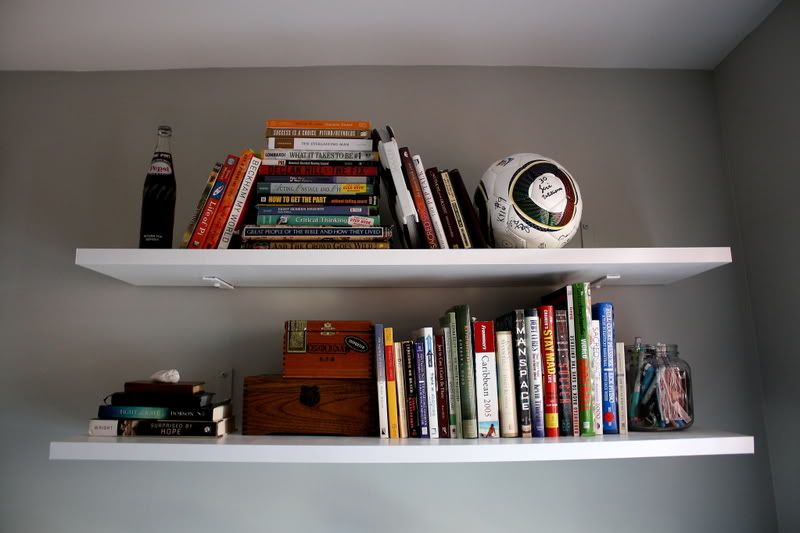 jordan's shelves.
last but not least, i made a little curtain for the room. the other day, when i was at (once again) providence antiques, i picked up this
thomas paul
fabric scrap for $1. lo and behold (do people say that?), it was the perfect size for this window! i only trimmed off about a foot-long piece that was dangling from one side. i did the ol' ironing trick, and hot-glued the ends under (my bootleg way of making "curtains"), and hung it in the window with a tension rod from target and some ikea curtain clips.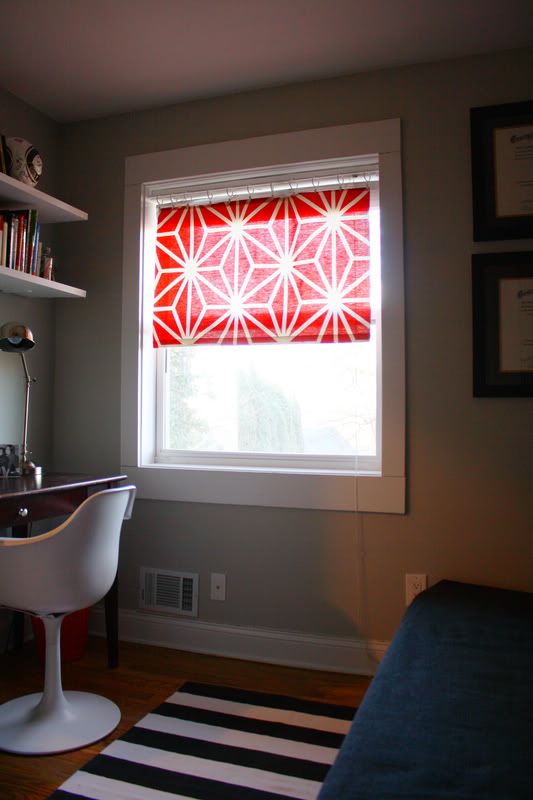 woo! we love our new room.
***
also, just because it may be asked: the office chair i got in college at a thrift store, the rug is old and from ikea, and the wall color is a combo of two colors i had on hand ("dolphin fin" by valspar, and "aloof grey" by benjamin moore). ceiling is painted with a flat ceiling white by valspar, and the shelves and filing cabinet are bright white trim paint by valspar in a semigloss.