this past weekend was full of "diy" projects around the house. when i am doing any type of project around the house like this, is when i am at my happiest! (well, that and dancing) i just love these types of things...if you can't tell.
anyway...jordan has these 2 storage chests that have long been on my "hate" list. sorry, but it's true. i just don't like the "mom" look of them, and i've always been baffled as to why he has not one, but two of these things. anyway. i digress. we were planning to get rid of them after
The Great Guest Bedroom Redo of 2011
, but i came up with a different plan. i pulled the 2 chests into our bedroom, and placed them at the end of the bed. i sort of liked how they added a "finished" look to the bed space, and obviously they provide a lot of storage in a storage-deprived home. they were staying.
the basket-y look of them was not bothering me as much as it did before, because now they were kind of blending in to some other natural textures that i had in the room - i.e., the blinds and a big basket i have. here is what they looked like before i hatched my little plan: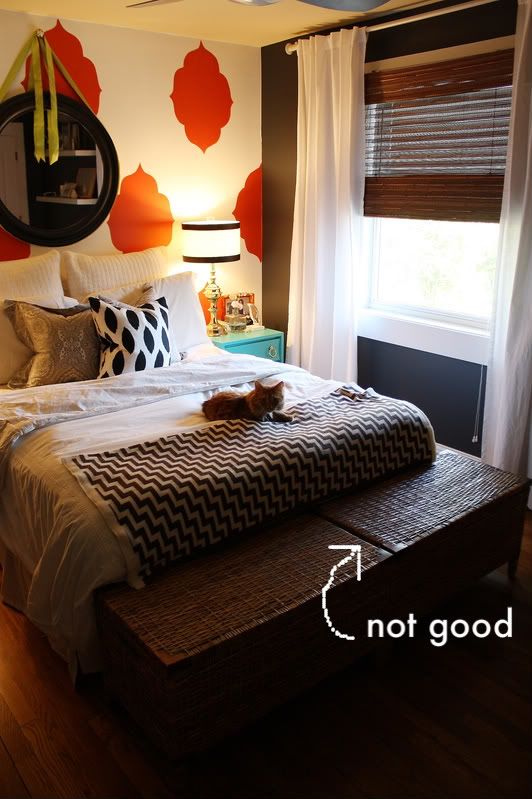 i didn't like how having two separate pieces made it look like it was two twin beds pushed together. so, i made a bench cover/seat to unify it. it's pretty obvious how i made it, but just for kicks, i'll do a little explaining.
i bought a piece of particle board at home depot, and had them cut it down to the measurements of the tops of the two chests together. (i ended up keeping the remainder of the particle board - maybe i'll make a headboard in the future?!)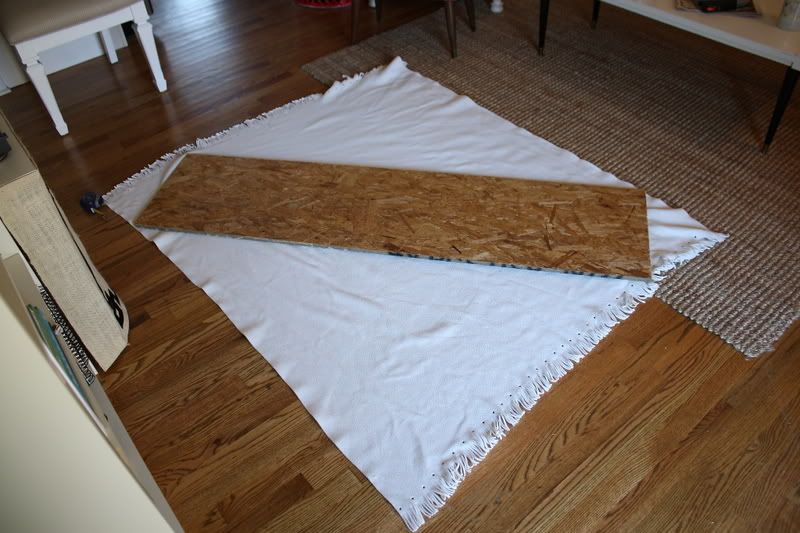 i thought it needed a little padding before the fabric, so i used an old blanket from ikea for it's first layer.
stapled that baby on, with one of my top 3 tools - my staple gun.
i was wanting a coral fabric when i went out searching, and happened to go into homegoods before i popped into the fabric store...they had these great coral sheets by lacoste (shout-out to
wendy
! she's one of my friends, who worked there for years.). they had a striped version and a coral version. i bought both, but ended up going with the stripe. i returned the solid coral.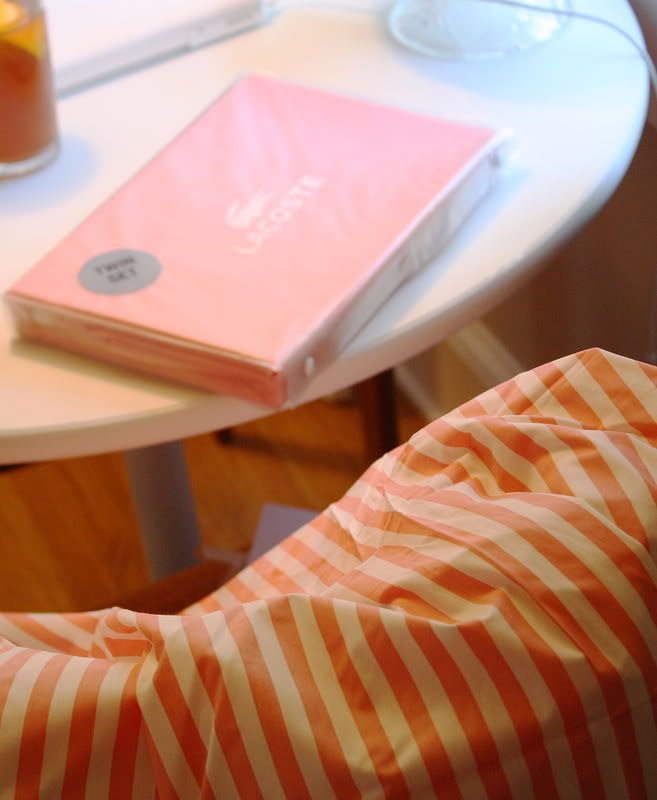 i stapled the striped fabric on top of the white blanket. i also bought 2 kits to make my own buttons for it.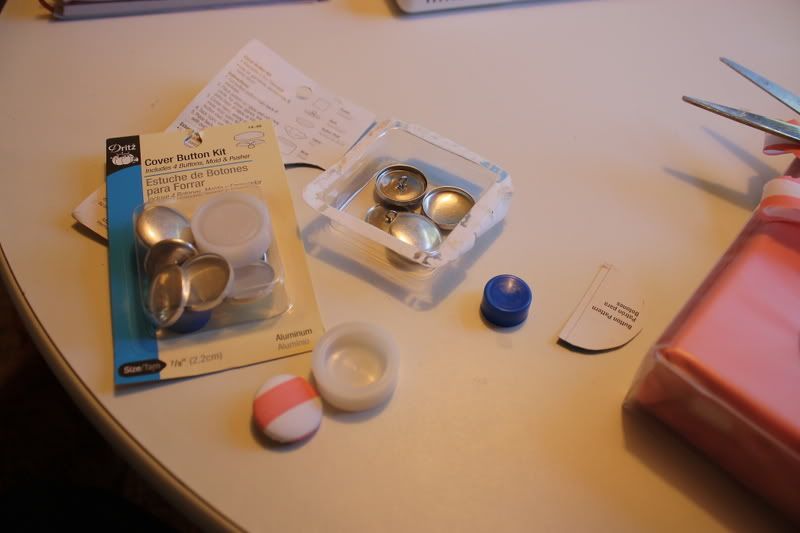 fun and easy.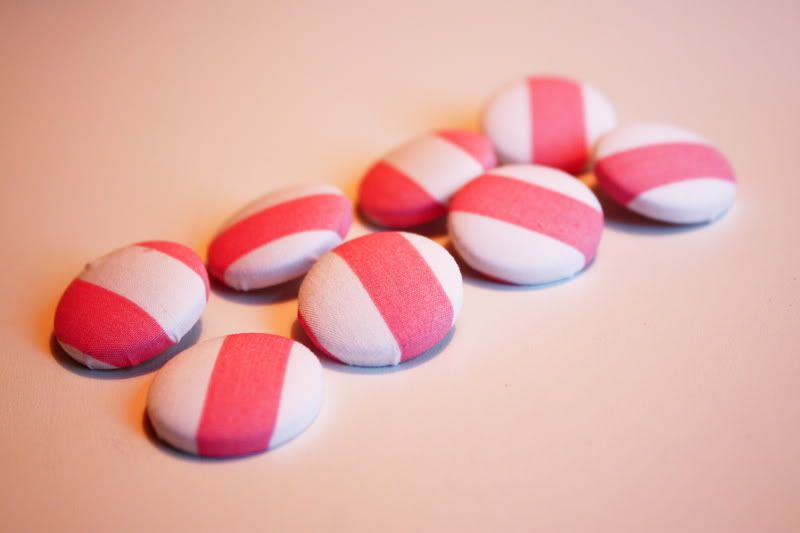 cut lil buttons i made! :)
i measured out the distance across and between so that i could nail down the spots for my little buttons. i have no idea how real upholsterers do this, but i'm sure it involves sewing. woops.
once i had all of my button-spots nailed down, i simply hot-glued them in place. i used a TON of hot glue for each one, but made sure none came out from underneath the button!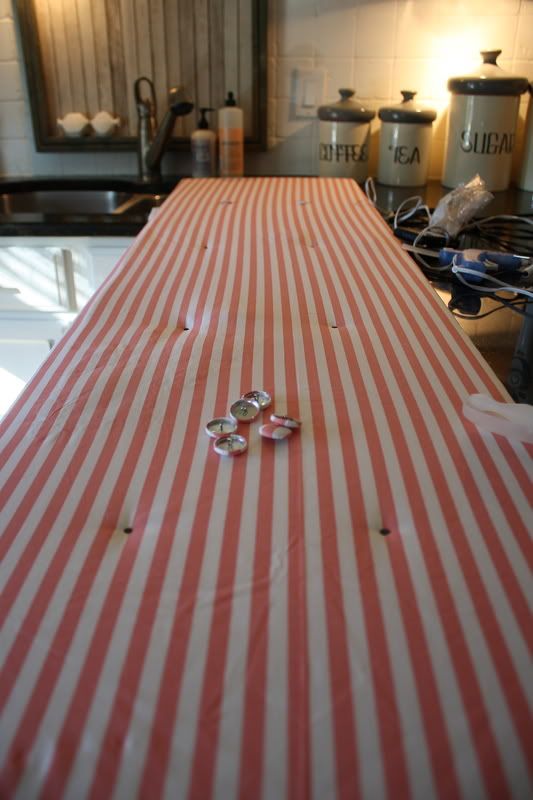 and, here it is! naturally, mika models. he's such a good pet.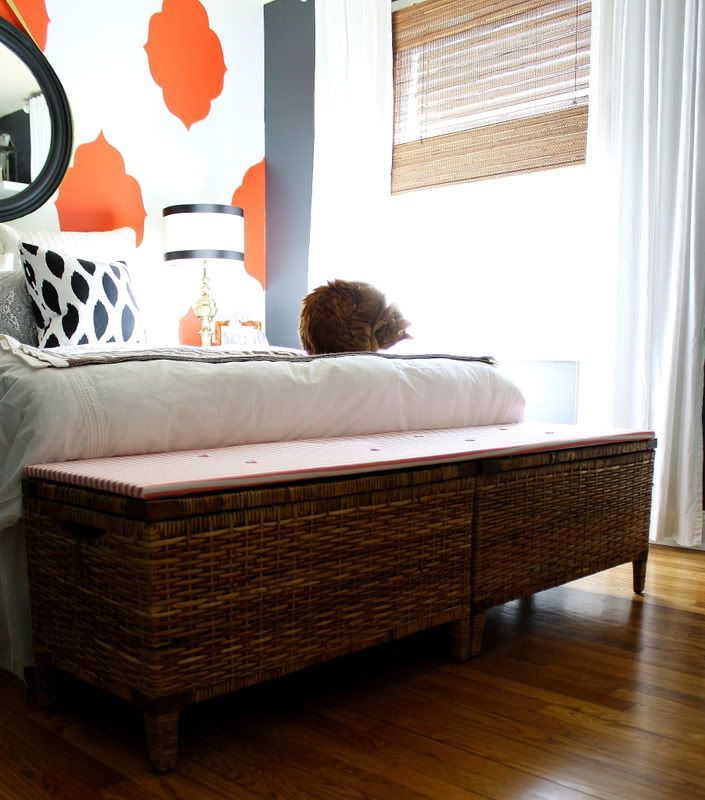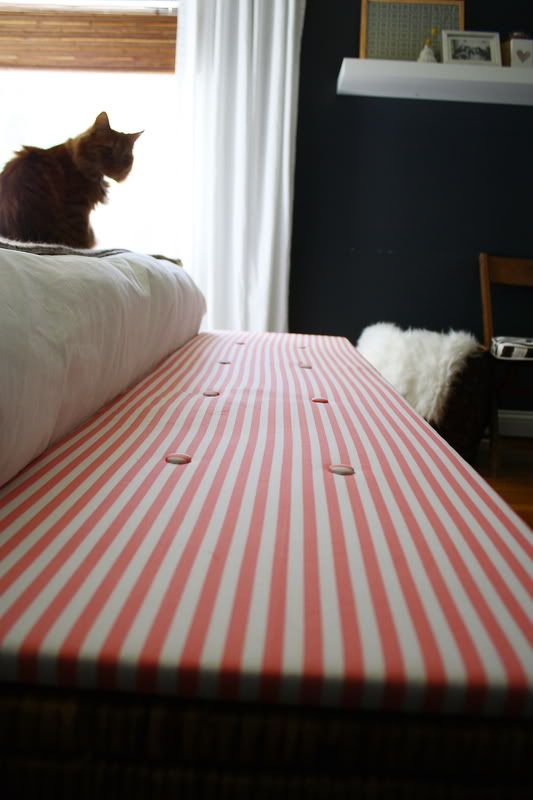 i love the buttons! they make it so much more legit, right?