you know you are bored when you start taking photos of your plants.
anyway, a few months ago, i transferred my outdoor succulents inside, in hopes that they didn't die over the winter. i bought some soil at
the urban gardener
(couldn't find their website, but it's a GREAT gardening supply store, really close to my house - between grant park and cabbagetown. employees are really knowledgeable, and a lot of beautiful things for the eyes when you are there, too!), and talked to one of the employees about transferring the plants inside. she told me that there was a good chance they wouldn't make it, but if i kept them at a medium-range temperature, it would help. so far, they have made it, and seem to be doing alright. i'm so glad! (especially since a certain little feline likes to chew on them every now and then, argh!)
i wanted something other than the traditional ceramic pot to place them in, so i went to a couple of thrift stores to hunt down different containers. here's what i came home with:
the glass container in the back is some sort of candy dish or fruit bowl. i got it for only $7. in front of that, to the right, is a vase i bought for $1 (just for flowers, not for this project!), and then next to that is another mercury glass lookalike that i bought for $1 as well. i had initially planned to put a couple of plants in the big glass dish, but for some reason that didn't happen...i still think it'd be a cute idea next spring when succulents are in stores again...
here's what it turned out like: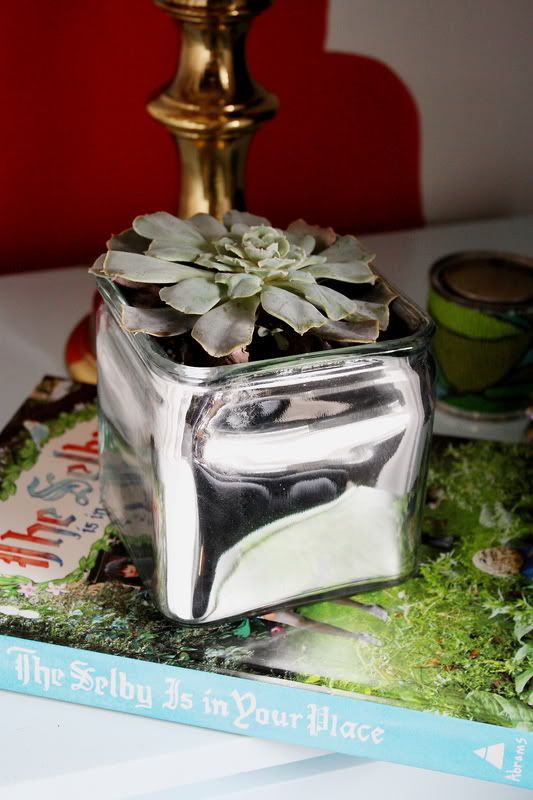 still kickin' it! doesn't look as great as it did this summer, but still alive, nonetheless. it lives on my nightstand, and in the windowsill during the day.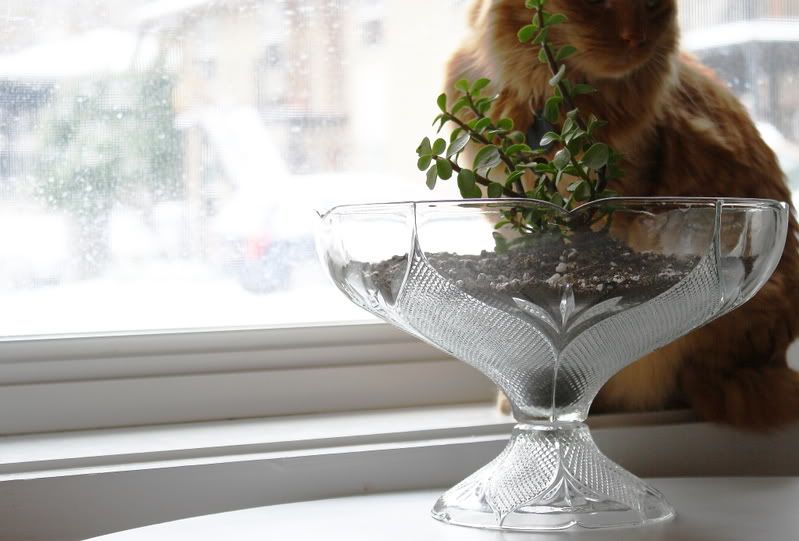 here is the other one...mika models, as usual. it lives on our table.