i put up our new white tree this year...its very bright, and happy, and i love it!
i wrote about how i wanted a white tree last year, and a few months ago my mom found one for me. i also have quite the vintage christmas decor collection, thanks to mine and my mom's finds over the years...if you ask me, vintage santas are about 100 times cuter than present-day santas.
elf's view.
big ben ornament my mom gave my brother and i the year we went to london. i love the memories that each ornament brings up! sounds quite cheesy, but it's true.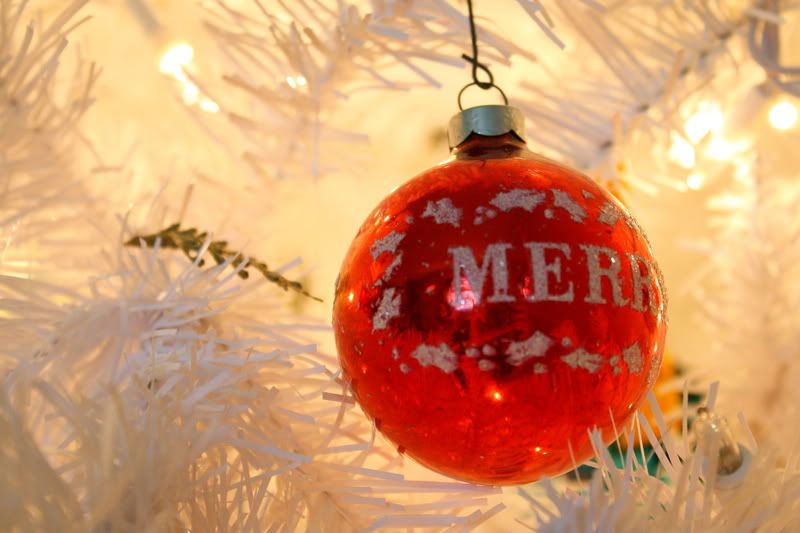 jordan's mom gave me a bunch of these vintage ornaments a few years ago..
a long time ago, my grandmother made a bunnnch of ornaments similar to this brown one. i have most of them, and put them up on my tree every year...i always appreciated the colorful christmas ornaments, so i guess this is how i inherited them. i love them!
i also have this grinch that moves around the house...
i have mentioned before
how much i love dr. seuss (i even did
this painting
for my dad last year), and the grinch is no exception! he makes me smile.
my mom found these vintage japanese santa mugs, too. aren't they cute? i like how one of them (but only one!) is winking (second one to the right, in this photo).
and last but not least, i have a tree in our room. red vintage tree (this is the one i usually put up in our living room every year...
2008
...
2009
):
i am aspiring to be like my mother, who has a tree in almost every room! i'm pretty sure her "bedroom" tree was up even before thanksgiving :) i think it's the lights...they just make everything prettier.
i used some of my leftover pink zig zag fabric from
this project
as a tree "skirt"