one of my favorite people to paint for (because she always commissions fun, imaginative, creative things - and she was an old highschool friend) asked me to paint her daughter's dresser in colorful, fun patterns, and i had a blast doing it! jaclyn also commissioned
this
, and her house is full of great pieces and lots of color. i've said it before, i'll say it again - i love working with creative people. anyway, elizabeth's current dresser will be going into her future baby brother's room, so it was time for her to get something "new" of her own. her room is bright, playful, and fun, so it made sense that her dresser be the same :)
here is the "before" of the standard dresser:
aaaand, the after: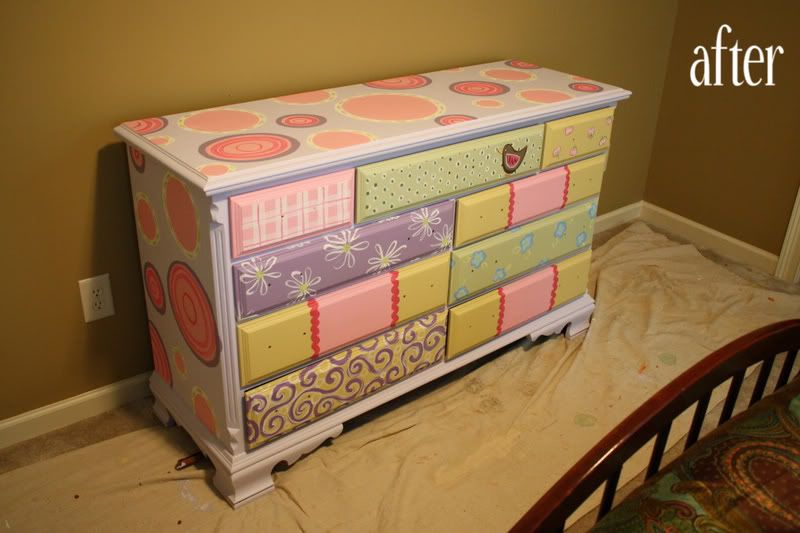 now, as you can tell, this is not the room that the dresser belongs in! a couple of years ago, i painted in elizabeth's room, and here are a few pics of it:
she's done a lot to the room since then, but at least that gives you a better idea!
elizabeth's bedding is a quilt from pottery barn with lots of patches with different patterns and colors. i tried to draw from some of the patterns, and then some of them i just made up as i went along. jaclyn specified the polka dots on the top and sides, and i think it's suuuuch a fun, playful addition! this is why i love people that aren't scared to have fun with their decor.
there were also birds and owls on the quilt, so i did a sweet little bird at the top.