yesterday, i was down in my hometown of good ol' griffin, georgia, and i stopped at one of my favorite thrift stores. now, you may (or probably may not) remember that when i was searching for a new table for our little breakfast nook, i really wanted a tulip table. the problem was that all of the ones i found were too big for our space. they all fitted 4 people, and i really just needed a 2 person table. anyway, you may remember that i settled with
this table
, which was ok (even though i liked my little mod table, i still secretly wished i had the tulip table!), but yesterday, i hit the jackpot!
i noticed this guy sitting in a mix of furniture cast offs:
he was marked 6.99! my wheels immediately started spinning, and i thought "ohh, i could get a new top made for it! or..i could use the one i currently have, and just screw it into this base..." a plan was hatched. as you can see, the table top of this guy was just a piece of plywood (with the screws from the base scarily sticking up out of the wood from underneath!). so, i asked the store manager if it was ok if i just unscrewed the table top and left it at the store. i didn't want to worry about even taking the table top, when i knew i wouldn't use it.
i brought it home, and immediately went to work on it. i screwed my old table top (which is the perfect size for our space) into the base of this table: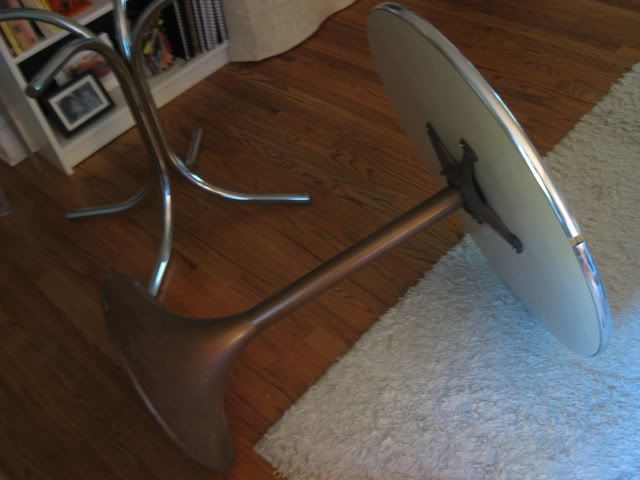 then, i filled in some chipping parts with wood filler:
and then primed and spraypainted this baby white: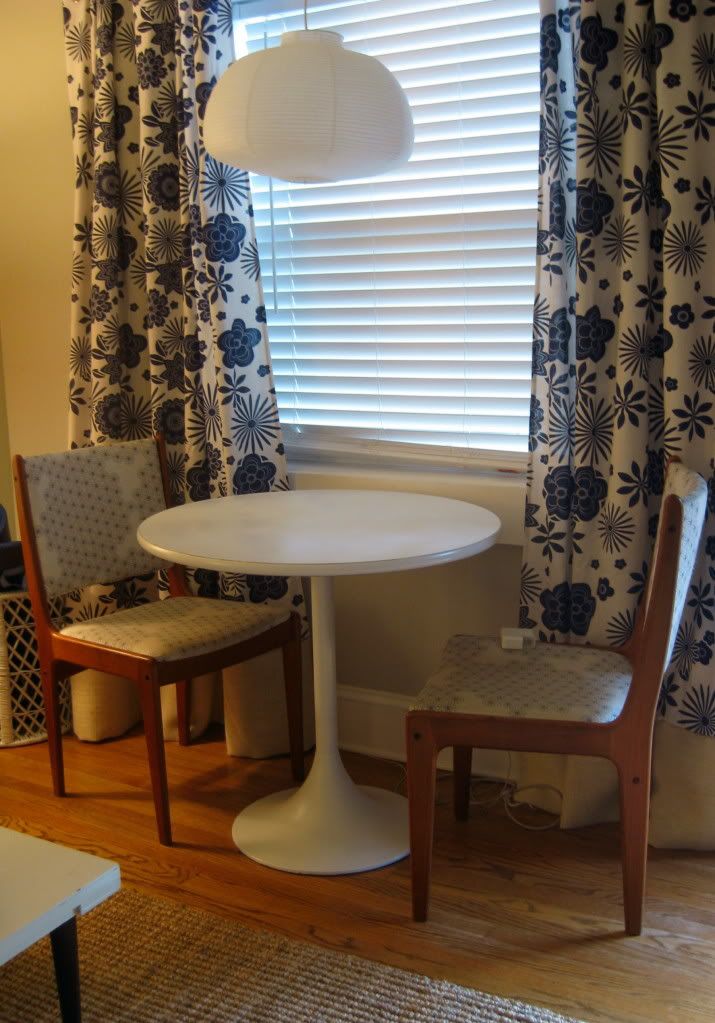 i love my new table! i'm so happy that i found it. the table base is SUPER heavy, and it was actually kind of rusted underneath, so i can't really read any of the numbers or letters that are on it. i'm sure that it is really old, and i have no idea how to tell if it's a real knoll table or not. any advice from you people?
next, i have to do something about the chairs. i really want some chinese chippendale bamboo chairs, similar to this:
but, i haven't found any yet. let's hope a solution presents itself soon. i hope to figure something out this weekend. hope everyone has a nice one :)