this week, i got to paint for a friend that i met in college. i met hillary my last semester at georgia state - we had a spanish class together, and we hit it off. we have a lot in common...and when i say "a lot", i am partly referring to hidden teenage passions like the band hanson (yes they still exist, and yes i still go see them quite often) and twilight. hah! (but it's true) we also, apparently, have similar taste in decor...
i went over to hillary's yesterday morning (i'd never been to her new apartment!) to paint two pieces for her - a tv/entertainment center, and a dresser. i just loved some of the things i saw in her apartment, so i asked her if it was ok to share them on the blog. she said it was fine, so i can't wait to show you guys the things that inspired me while i was painting her furniture (which will be up on the blog here pretty soon! i'll be finishing them today)
first up, is this cute little sitting area when you first walk in. i love her color scheme of grey (that wall color is fab), orange, deep gold-yellows, and olives. you all know i love a pop of white, and she has lots of it!
i loved this little owl!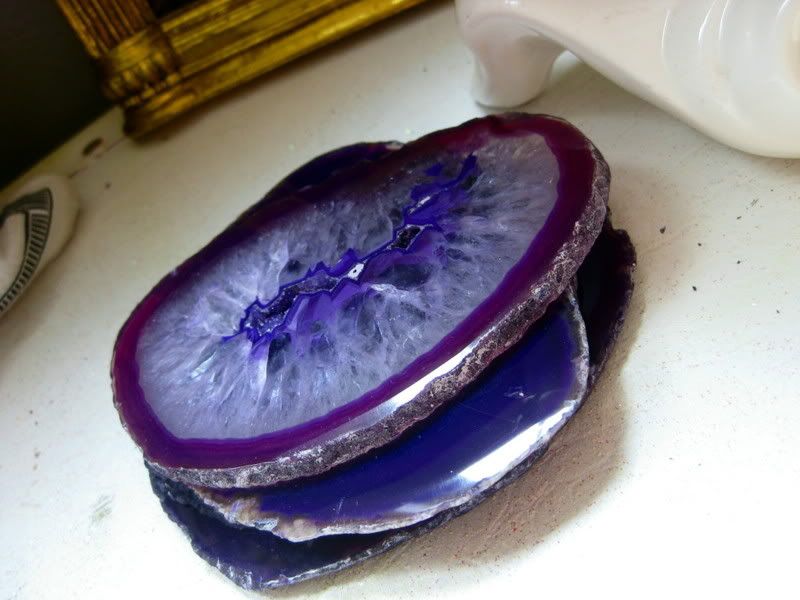 i thought these coasters were SO pretty. ahhhh, nature, you make the best stuff.
this is right above the sofa. it's the first thing i saw when i walked in, and i was in love. how hilarious/awesome is that jesus/antler combo?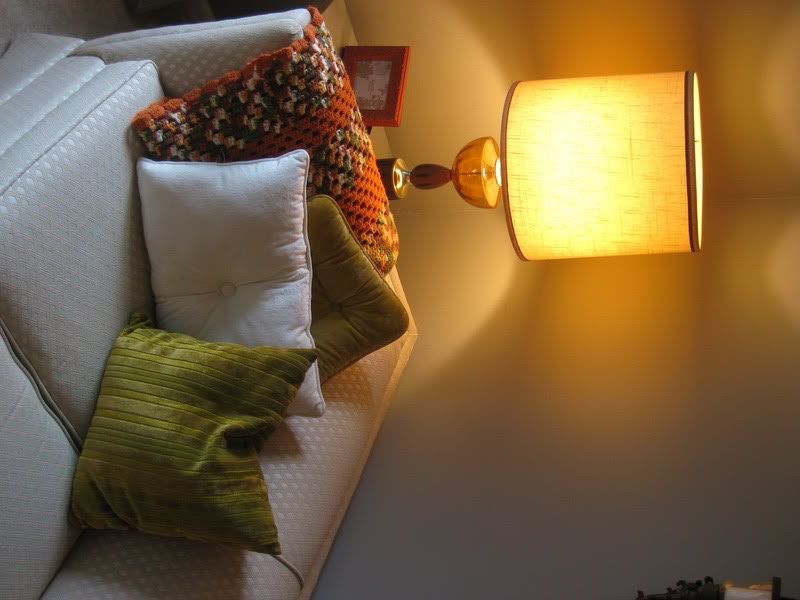 here's the end of the sofa, and some cool throw pillows. it's hard to see, but her end tables are shiny silver metallic. i think it's such a nice contrast with the '70's items all around, to have some thing bright, stark, modern and metallic.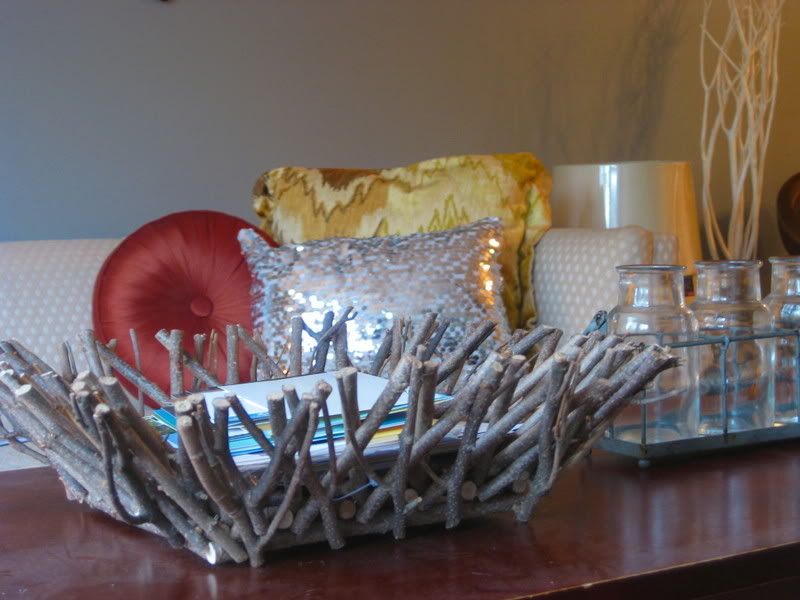 i love this shot of hillary's natural twig tray (i want one!) and the rustic glass bottle holder. it's also a good view of more of her vintage & new throw pillows. the pillows were my main inspiration for what i am doing with the entertainment center.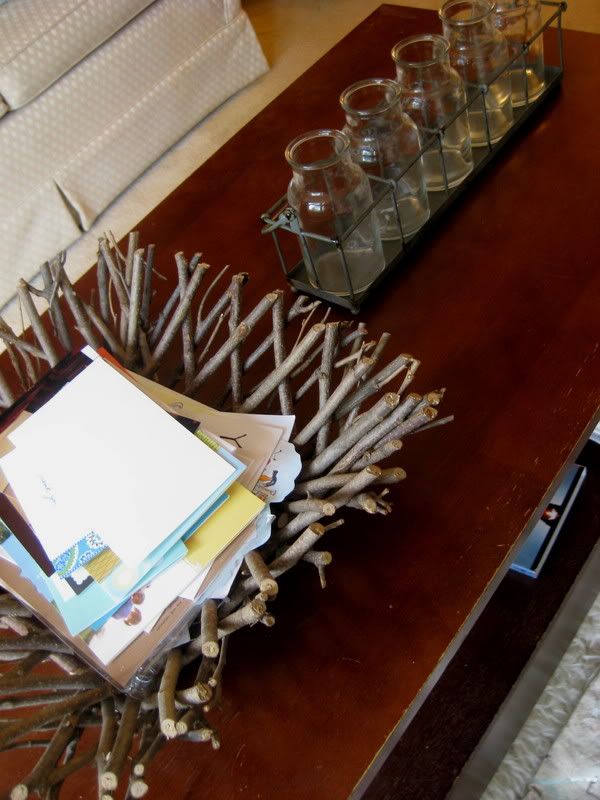 at the other end of the couch, is this great vintage chair, with the felt "king" pillow sitting in it! ADORABLE. i also love the white twigs...
detail shot of the king (i don't know where he is from, but he is amazing).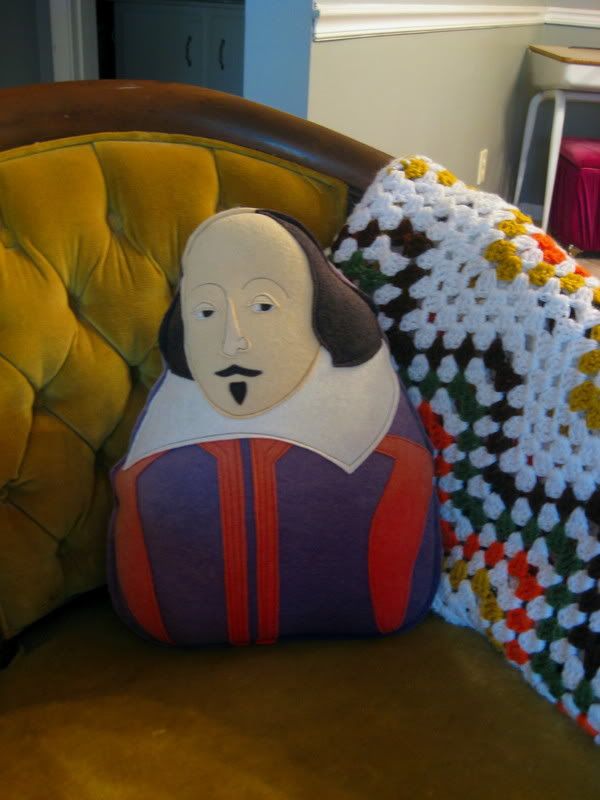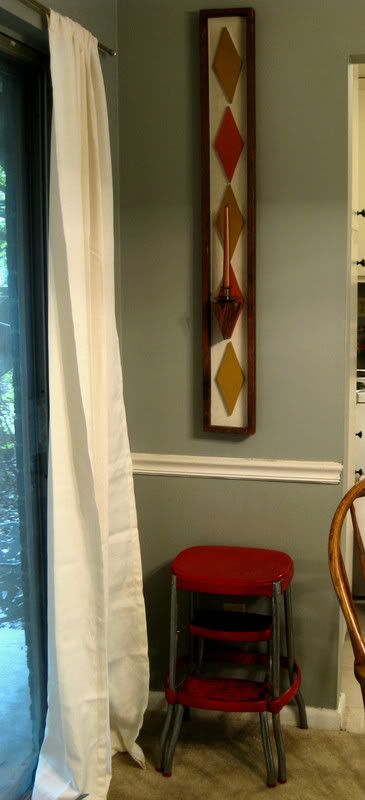 i love this harlequin candle holder! and the little stool below it is the perfect color.
in the bathroom, i love the accessories hillary has around the sink:
and, last but not least, the unicorn mirrors. in a word: magical.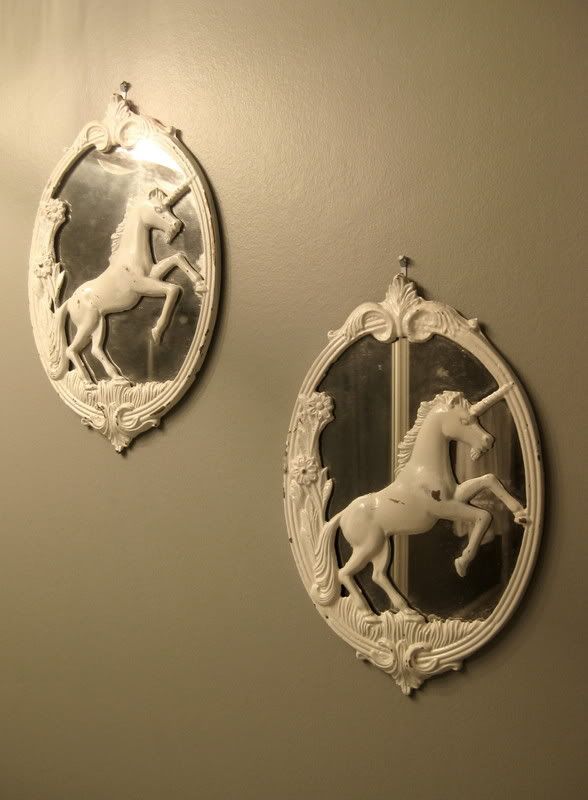 i'll be back soon with the two furniture makeovers i'm doing at hillary's...hope you enjoyed the peek into her home, i know i did! here are the two "before" shots of the furniture that i'm painting at hillary's: