good morning! my computer is once again under the weather (this time it's been sent away by apple, so hopefully this will do the trick?
my impatience is growing!), so my apologies for the spotty blogging. anyway, i wrote this post a couple of months ago, so i thought i'd finally share it with you guys today.
...
when i posted my project on the striped bathroom i did for a client, along with the matching striped shower curtain, i had a lot of inquiries as to how i did it - and it was super-easy, so i thought i'd share.
things you'll need:
1. paint: you just need the color that you used to paint the stripes on your wall - latex wall paint will do the trick.
2. a shower curtain: we used a basic canvas shower curtain from walmart. you can use any type! it may sound weird to say that you can paint directly onto the fabric, but let's not forget artists paint on canvases everyday ;)
3. painter's tape: don't skimp on your tape - quality makes all the difference in this department, and you'll want the blue or green tape that is made for regular wall surfaces (not the "delicate" one).
4. water color pencil: these are found at craft stores in the paint/watercolor section. buy one that is the same color as the stripes you will be painting.
5. a long level, or broomstick: something that will create a straight line for you to trace with.
6. a yardstick or measuring tape
7. paint roller, brush, and paint tray
this is what we started with...
here are my steps for creating the shower curtain:
i will assume that you have already painted the stripes on your wall! you can find plenty of tutorials for that online. in this case, i was working with a white wall that i painted tan stripes on, so we bought a white canvas shower curtain. (if you want two different colored stripes, simply paint your stripes in two different colors, rather than one, like i did)
1. hang your shower curtain up on the hooks that it will be hanging on. get it positioned at a height that you like, then make little dashes with your water color pencil where the stripes should be (example: if your stripes are 12" stripes, make a dash every 12" with your watercolor pencil, matching up the lines of the wall with the lines on your shower curtain)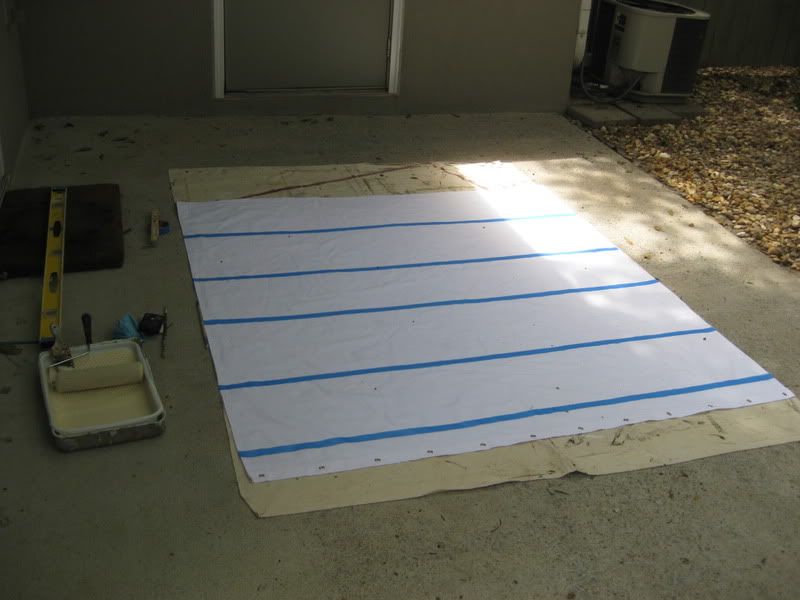 2. take the shower curtain down, and lay it on a dropcloth. go to the side of the shower curtain that you didn't make the marks on before, and make identical marks on the other side that will create the markers for your lines.
3. after you make marks, take your level or broom, and hold it across the length of the shower curtain and draw lines with your watercolor pencil to mark off the stripes.
4. tape off the stripes with your painter's tape (make sure you pay attention to where you will be painting, and tape on the right side of the line! this is important, and an easy mistake). you can buy little felt squares at home improvement stores that help you press your tape down to try to prevent bleeding of the paint. this step can save you a lot of work if you really pay attention to it!
5. grab your paint, and paint those stripes! i always "edge in" with my brush first, then just use the roller to do the insides of the lines. you can do 2-3 coats to ensure coverage.
6. pull your tape while the paint is still wet! it will help with bleeding and usually makes a crisper line.
7. wait until it's all dry, then hang it! it will be a little stiff, but it should soften up a bit over time.