yesterday, i began this fun craft project that i am really excited about! i'm going to be helping my step-brother's wife with their baby boy's nursery, and i am really looking forward to it. we've come up with a fun color scheme, plans for the walls (don't worry - i'll share that with you guys soon!), selected fabric for the seamstress to make baby bedding with, and talked about the loose "theme" that we want, which is a few animals - mainly the zebra. we're not goin' crazy with a theme here, just kind of a few furry friends here and there.
so, enter the future mr. zebra:
like i said, he's not done (it's a real bummer that paper mache takes 24 hours to dry before you can move on with the project. i'm more of an instant gratification kind of craft person...i want it done NOW!), but i think the majority of the "hard" part is done. here's how i made him:
i loosely followed a tutorial from a recent copy of
better homes & garden's "DIY" magazine
. they had a tutorial on different paper mache crafts, and a faux deer head was one of them. i'd admired paper mache animal heads and busts for a few months now (they're all the rage, after all), and considered making one, but i didn't have a reason to, until now. i edited the instructions a bit, and it worked like a charm!
here are all of my supplies: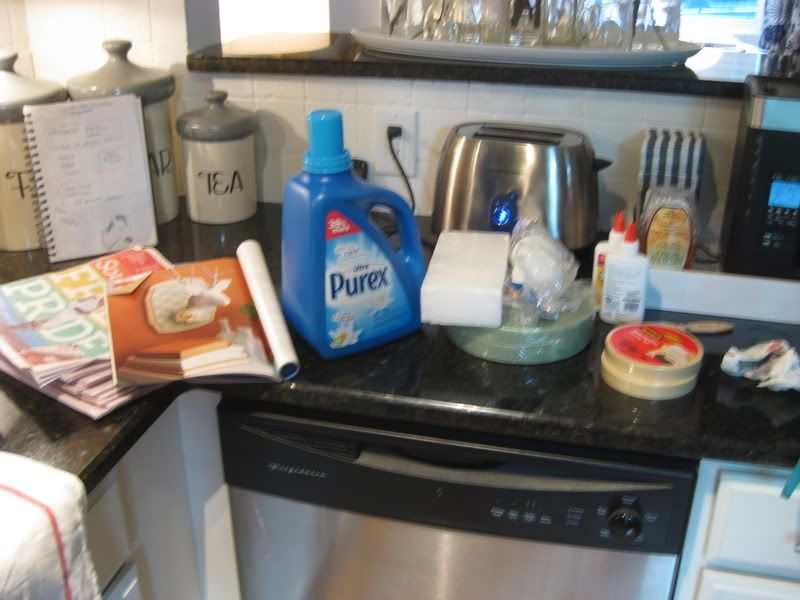 1. elmer's glue
2. water
3. styrofoam rectangle from the floral department of a crafts store
4. masking tape
5. newspaper
6. old, empty, dry laundry detergent bottle
7. a big bowl to put your paper mache mixture into
the diy magazine recommends using a small styrofoam ball as your animal's head and a small waterbottle as the neck of your animal. i was going to just form these with newspaper, since i knew that i wanted something larger than the deer that they made, but lighting struck when i noticed the laundry detergent bottle jordan had put in the trash earlier that day. crazy! it was the perfect size and shape for an animal's neck. i took off the top of the bottle, and stuck the styrofoam into the laundry detergent bottle.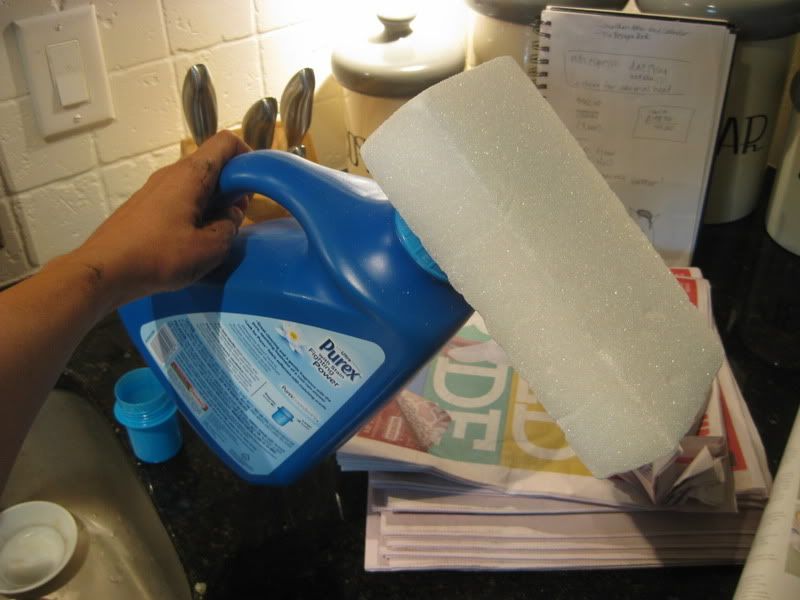 then, i followed the magazine's instructions to use masking tape to keep it from falling off when things start to get "goopy":
after that, i wanted to fill him in a little bit (so that he wouldln't look like a laundry bottle with a square head, hah!) so i balled-up newspaper and taped it around him to give him shape: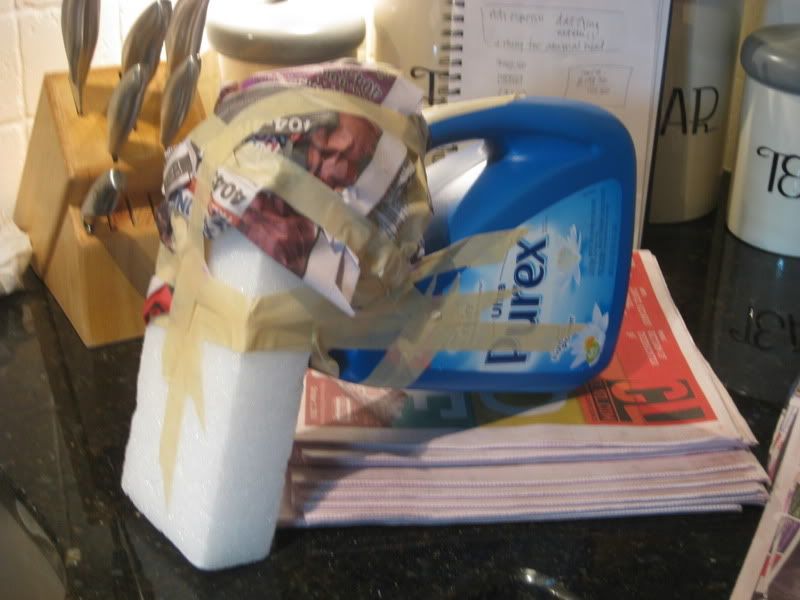 it takes a little imagination to think of it as a zebra head ;)
next, i did a little more forming by cutting off some of the styrofoam to make it rounder (use a bread knife when cutting styrofoam - it cuts through it much better!).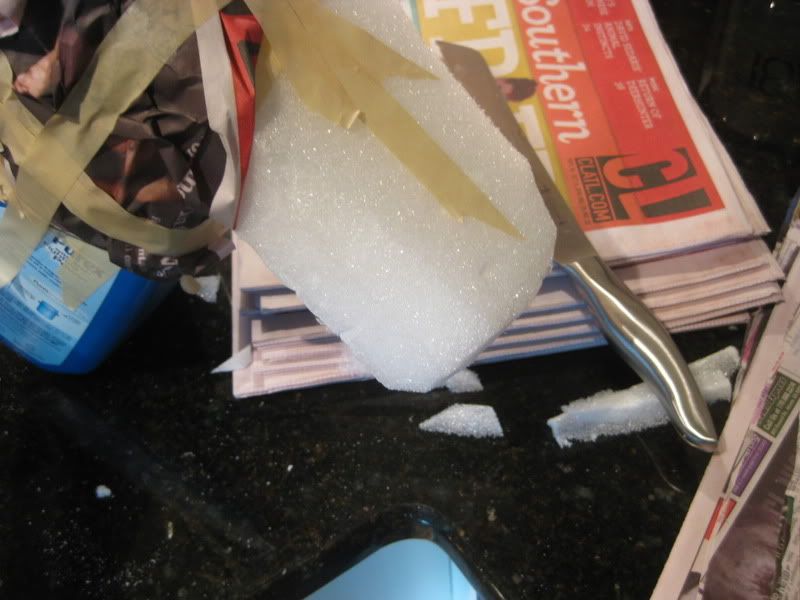 annnd, here comes the fun part! the gross, nasty, fun part. i mixed up the paper mache mixture... (i used 1 part water to 4 parts elmer's glue, or roughly that)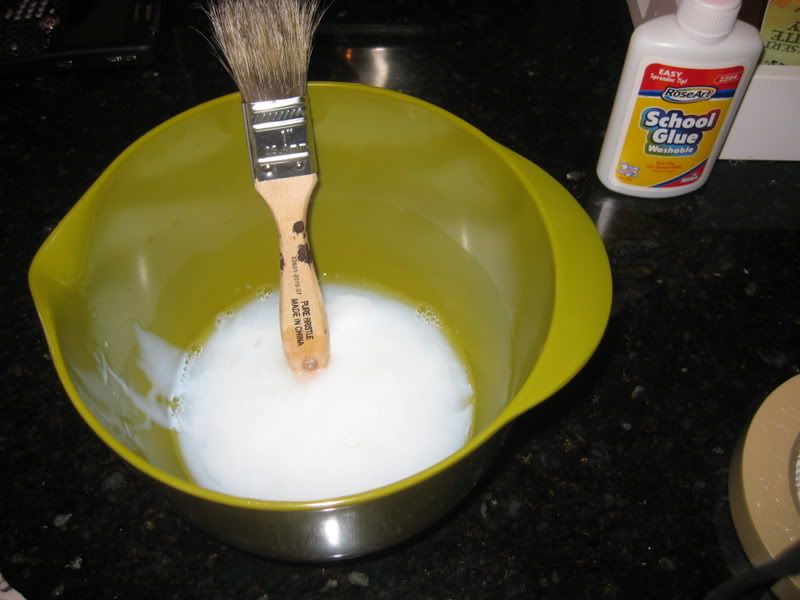 use a big bowl so you can get your newspaper parts down in it later...
then, i cut my newspaper into about 3" strips. in my instructions, it says not to cut, but to tear, so that your strips will have torn edges that blend into each other nicely. i cut, because i really didn't care if you could see the "seams" of the newspaper..it's not like i'm trying to make a real zebra head, here! :)
i wasn't really able to take photos of the application process, since my hands were disgusting, but i'm sure you can imagine!
i just applied them on top of everything, totalling to about 2 layers all over.
eventually, he will look something like this:
except this guy's eyes are a little scary, and he doesn't have hair like mine will! i'm waiting for him to dry, then i will add his ears and "hair". the magazine claims that if you make your glue mixture with mostly glue, like i did, you are able to sand and drill it when it's all said and done. we shall see!