i was searching for a few images this morning for a client, and came across these crazy kids' rooms! now, i know these aren't really my "style", but they are so inspirational and chock full of craziness and so much color and FUN that i had to share them. even though they aren't something i'd create, they are certainly very much appreciated and i give the designer a giant hats off for imagination and creativity.
this one is my favorite:
just look at that ceiling and the crazy furniture in this room...i can't imagine any kid that wouldn't want this for a playroom. and the cabana umbrella with the pom-pom trim? so cute!
i'm guessing some little girl really liked the color pink? what a dreamy room for a little girly girl! i love the chandelier and the pink on pink dresser to the right...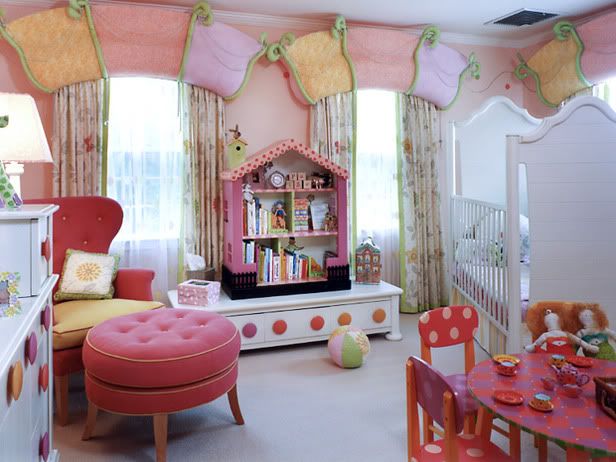 i loooove the oversized knobs on the furniture in this room, and all the fun polka-dot elements!
super cute table and chairs, and will you take a look at the "vines" growing on the curtain valances? so fun!
i couldn't figure out who is responsible for this work from the image search that i did, but whoever it is - great job!