i took some better-lit photos of my new grey room this morning for the blawwwwwg. 

i thought i'd share a little review of it's many stages since we moved here in august. given, the ceilings are still slightly yellow (NOT my decision -- everything was yellow when we moved in!), but i much prefer my new color. check it out:
a couple of days after we moved in (sorry for the wonky picture!):
after i painted everything white: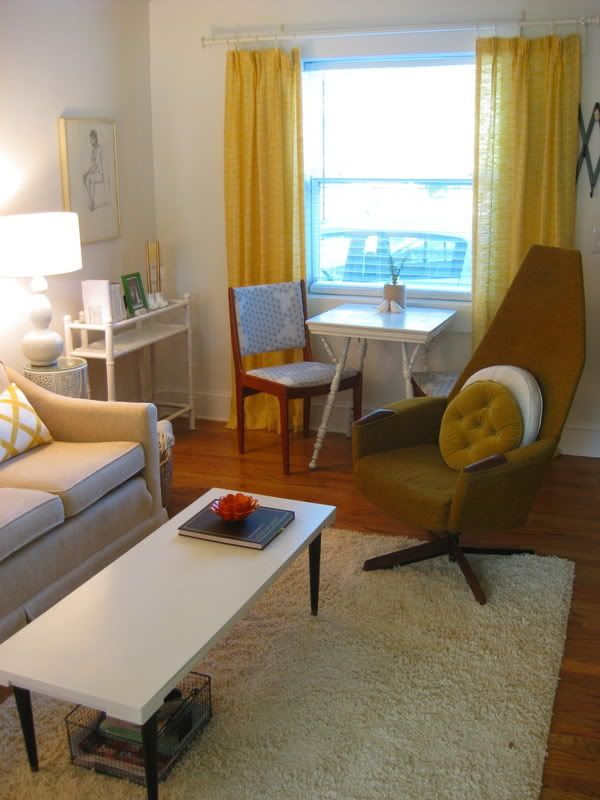 and, now:
see how nice my little
DIY re-vamped side tables
look against the grey wall now? they don't blend in as much as they did when the walls were white...
here is the new arrangement, as well. i just moved the little shelf out of the room (it served no purpose except for decoration, and it felt cluttered to me.), and pushed the sofa towards the window a bit. then, i moved the weird '60's mod chair over to the left side of the room. it makes SO much more sense, and the room feels larger and flows better now. we are all much happier with this arrangement, and i'm not sure why i never thought of it up until this weekend.
i still haven't decided what i am going to do above the sofa. i am enjoying the open space right now. a little room to breathe in a tiny home!