it's done! i bought this table for a client, and it wasn't what she had in mind, sooo i was able to do something totally carefree and fun! i tried to just create something crazy that i loved, and not worry about whether or not others would like it. anyway... i find myself very attached to my little arrow table.
before: cute, but the finish has seen WAY better days!
first few rows of arrows
more arrows: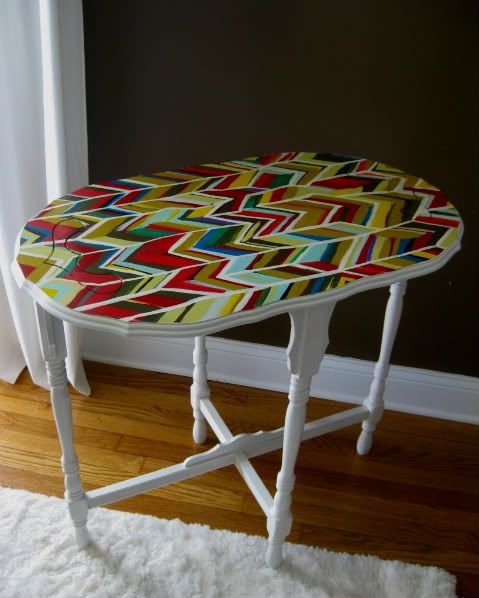 the top design was (obviously) hand-painted on by me...it's multicolored and sealed with two heavy coats of high-gloss (latex based) lacquer.
measures:
31 inches across (table top)
19 inches deep 
29 inches tall

it'd be a perfect little entry way table to throws keys on, use as a vanity, or place photo frames on. 
it is $200. it's very light, so it's shippable. 
email me: kristen.fountain@gmail.com for info/purchasing.
___
post - edit: i learned how to make photos larger, and it was WAY easier than i thought it is. now i feel kind of dumb, but whatevs, at least i can make photos actually
viewable
now! :)